WDB Embankment on Halda: Carp breeding under threat
Seven of 21 gorges where broodfish lay eggs partially filled up with sandbags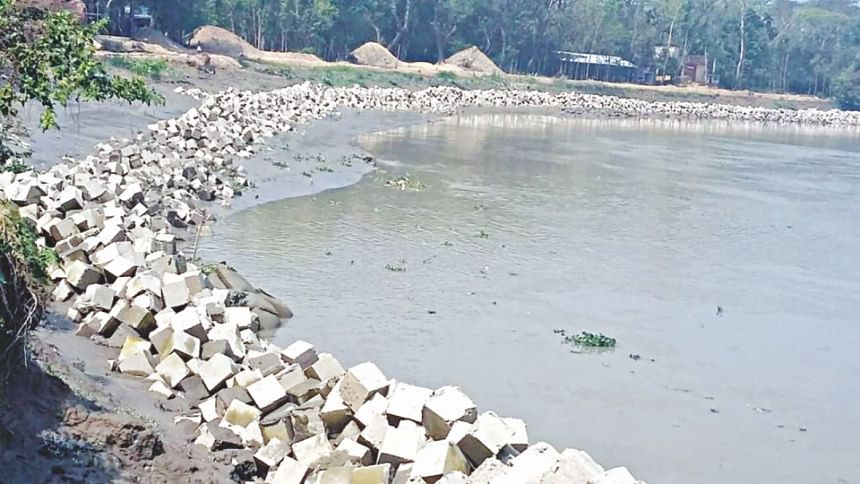 The Water Development Board (WDB) is implementing an embankment project along the Halda river causing severe damage to the natural breeding ground of carp fish.
At least seven of the 21 gorges in the riverbed, where brood fish take refuge to lay eggs during spawning season, have been partially filled up with dumped sandbags. The gorges are along the 10km stretch of Halda, from Onkorighuna to Ramdas Munsirhat in Hathazari of Chattogram.
The damage can hamper fish fry collection as the season is only one month away. The river is thought to be the only natural breeding ground for carps in the country.
A meeting of the Halda river conservation committee, led by the divisional commissioner of Chattogram, came up with the findings on February 25.
Md Mominul Haque, district fisheries officer of Chattogram, told the meeting about the damage done by the WDB project. The affected gorges, which were at least 80 feet deep, have lost their depth due to the dumping of sandbags.
The officials at the meeting blamed the WDB for not holding any talks before filling up the gorges but the WDB officials present at the meeting said they did not know if there were any gorges when they began their work.
The committee decided to recover the gorges deemed important for brood fish.
Swapan Kumar Barua, executive engineer of the WDB Chattogram circle, told The Daily Star that they did not know in which part of the river the gorges existed.
"We are working with river experts on how to undo the damage. We will restore the Khums [gorges] to its previous condition," he said.
Swapan said it would not have had happened if experts warned them before they started their construction work.
Divisional Commissioner of Chattogram Abdul Mannan, also convener of the Halda river conservation committee, told The Daily Star they were working for a remedy.
"The water resources ministry, the Department of Environment, and the fisheries department have given a coordinated solution to the problem. We will decide our next course of action following that," he added.
Dumping of the sandbags would increase siltation in the gorges shrinking the space for brood fish, experts said, adding that the WDB should have consulted with experts before starting their construction work given the unique characteristics of the river.
The WDB took up the project to build 21km of embankment to protect river banks from erosion. Concrete blocks would be dumped along another 12km of the river. The work began in early 2018 and is expected to conclude this year.