Losing fish to tobacco
As the nation's and possibly South Asia's major natural breeding ground for carp fishes like ruhi, katol and mrigal (Indian carp) from where fishermen collect spawns, the 98-kilometre Halda River that runs through Khagrachhari is unique.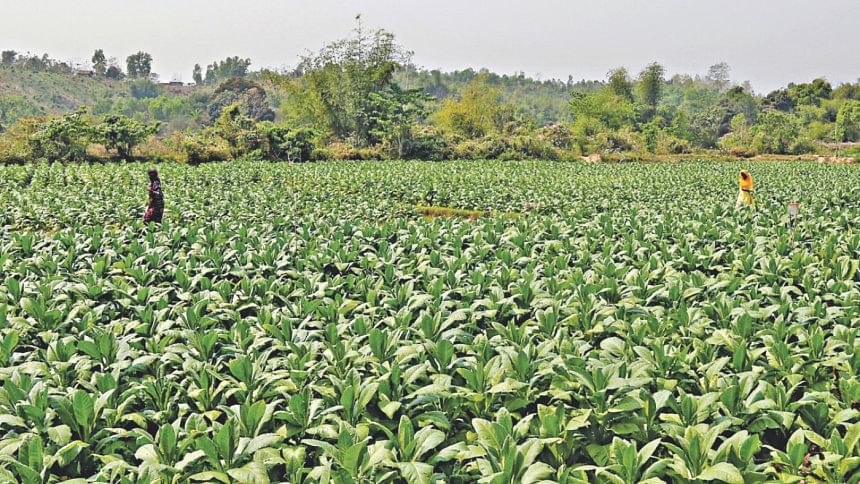 As the nation's and possibly South Asia's major natural breeding ground for carp fishes like ruhi, katol and mrigal (Indian carp) from where fishermen collect spawns, the 98-kilometre Halda River that runs through Khagrachhari is unique.
The number of fish eggs laid in the Halda has declined over the years, however, due to various manmade hazards, including cutting of the river's serpentine bends and oxbow lakes, industrial waste and sewage contamination, indiscriminate riverbed sand extraction and illegal fishing. With the river's condition already precarious comes a new hazard: tobacco farming.
"Due to the unique biodiversity of the Halda," says Manzoorul Kibria, an associate professor of Chittagong University's zoology department and Halda specialist, "reforestation of the river's hinterlands is recommended, and nearby croplands should use organic fertiliser and pest control. Unfortunately, unprecedented tobacco farming is moving the river's ecology towards even greater degradation."
In the last three years the number of farmers growing tobacco in Khagrachari's Manikchhari upazila, which lies within the sensitive Halda catchment, has increased from none to 50. Tobacco requires large amounts of fertiliser and pesticides. Runoff joins the Halda, as the river runs along acres of tobacco fields only a few feet away.
"Toxic residue comes from upstream," says Kibria. "The changing chemical traits of the Halda's water in the fish spawning zone will have a serious impact."
The new threat comes on top of a long term decline in the abundance of fish eggs. In 1945 around 5,000 kilograms of Indian carp eggs were laid in the river. By 2011 this amount had reduced to 210kgs, with a rise to 354kgs the following year. In 2013 just 70kgs of fish roe were deposited, while last year's result was even worse at 47kgs, according to research by Kibria.
The last thing the spawning ground needs is the added menace of tobacco, he warns.
Farmers, however, see things differently. Tajul Islam of Gorkhana village in Manikchhari began growing tobacco in 2013. "Along with six other farmers," he says, "I started to cultivate tobacco when I saw farmers in the hill tracts were making good profit from the crop."
Jhontu Mia of nearby Chodurkhil village meanwhile, planted two acres with tobacco for the first time this year. "I used to grow rice and vegetables," he says, "but the profit for those crops is low. Besides, there is uncertainty in price and buyer availability. But with tobacco advance payment from tobacco companies is possible and they provide seeds, fertilizer and buyer certainty."
Both Tajul and Jhontu note that tobacco requires up to four times more fertilizer and pesticide than traditional crops.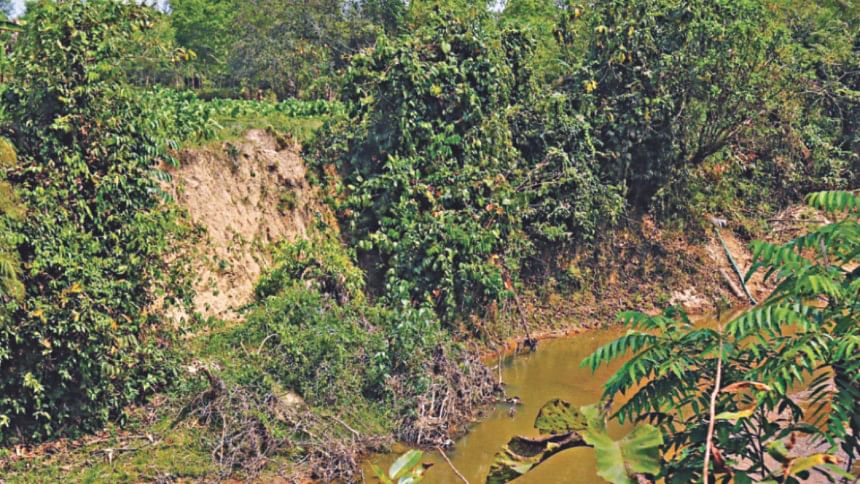 In Manikchhari upazila early this month, The Daily Star found vast swathes of land under tobacco cultivation. Farmers estimate 150 acres across the upazila are being used for this purpose, even though the official record at the Manikchhari upazila agriculture office is around 20 acres.
"Most farmers don't admit to farming tobacco," says upazila agriculture officer Shafiqul Islam. "In remote areas we often find tobacco fields but growers don't speak with us."
Tobacco farming is spreading to adjacent villages of Fatikchhari upazila's Narayanhat union in Chittagong district, also part of the Halda basin. Liton Debnath, the upazila agriculture officer there, says, "According to official records no upazila land is dedicated to tobacco cultivation, but I've heard some plantations exist."
Traditionally, much of the country's tobacco is grown in the northern region and in the hills in the Chittagong region, but farmers have started cultivating it as a cash-crop along the Halda only recently. 
This goes against the WHO Framework Convention on Tobacco Control (FCTC) that Bangladesh signed in 2003 and ratified the following year, becoming one of the first countries to do so.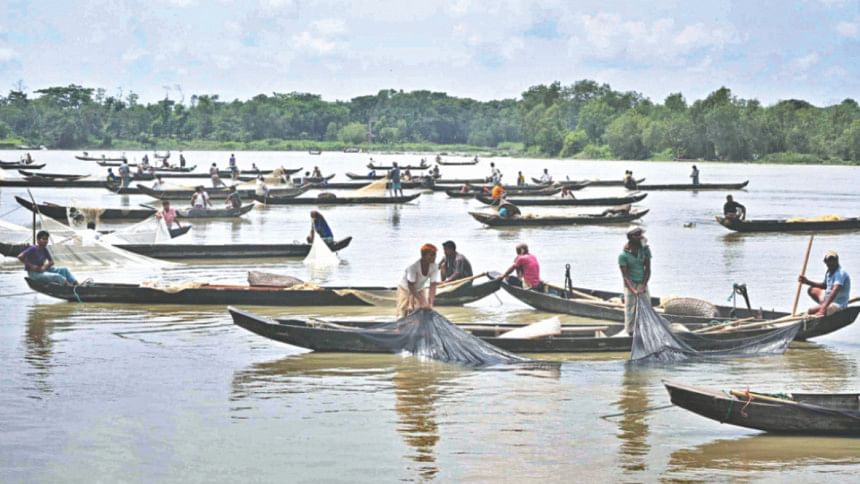 Sections 17 and 18 of the world's first public health treaty call on governments around the world to help farmers grow alternative crops and to take preventive steps to protect the environment and public health from tobacco damages.
But 12 years on, there is little government campaign against tobacco production and consumption.
With the incentives offered by tobacco companies to induce Halda hinterland farmers into discontinuing cultivation of traditional crops in favour of tobacco, the spawning ground of the Indian carp is under increased threat.
Unless change occurs, it's not unimaginable that a day may dawn when the Halda is more famous for tobacco than carp, with the native fish relegated wholly to Halda River memories.