Two killed in 'gunfights' in Gazipur, Bogura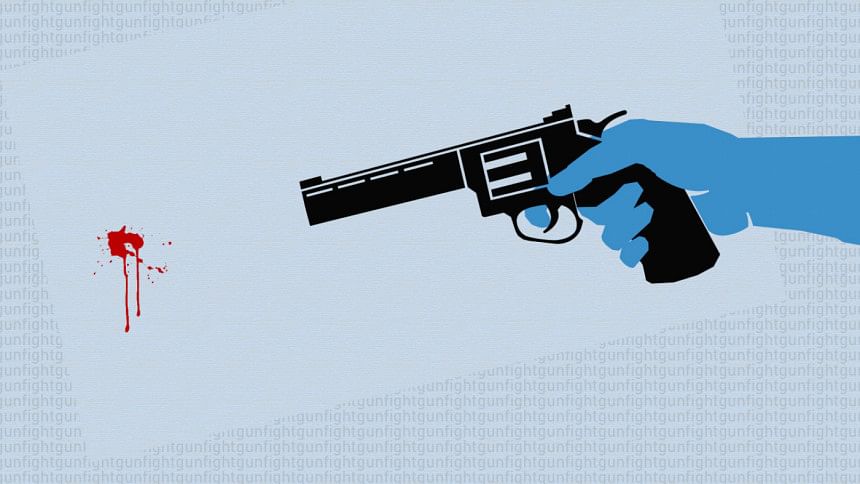 Two men were killed in separate "gunfights" in Gazipur and Bogura early yesterday.
In Gazipur town's Salna area, a group of suspected arms dealers got involved into a "gunfight" with Rab around 2:30am yesterday.
Rab conducted a drive in the area on information that arms were being smuggled. Sensing their presence, the arms dealers opened fire, forcing them to retaliate, the elite force claimed.
Lt Commander Abdullah Al-Mamun, company commander of Rab-1, said the dead Habibur Rahman, 35, was accused in 13 cases with different police stations.
The body was sent to Shaheed Tajuddin Ahmed Medical College morgue for autopsy, he added.
Two Rab officials -- Ujjal and Sanaullah -- also sustained injuries during the "gunfight", he added.
Rab claimed to have recovered a pistol from the spot.
Meanwhile in Bogura, a youth was killed in a "gunfight" between two groups of criminals in Upashahar area of the district's Sadar upazila yesterday.
Hearing gunshots petrol team of police went to the area and found Rafid Anam, 25, of the upazila's Khandar area, in a critically injured condition around 3:00am, claimed police.
Badiuzzaman, officer-in-charge of Bogura Sadar Police Station, said they rushed Rafid to Shaheed Ziaur Rahman Medical College Hospital where doctors declared him dead.
Sanatan Chakraborty, additional superintendent of Bogura police, said Rafid was accused in seven cases over murder, extortion and arms dealing with two police stations in the district.
The body was handed over to family members after conducting autopsy.
Two cases were filed with Bogura Sadar Police Station.
The Daily Star, however, could not independently verify the law enforcers' claims.