Jhenidah's jewellery town
Over a dozen ornament factories employ thousands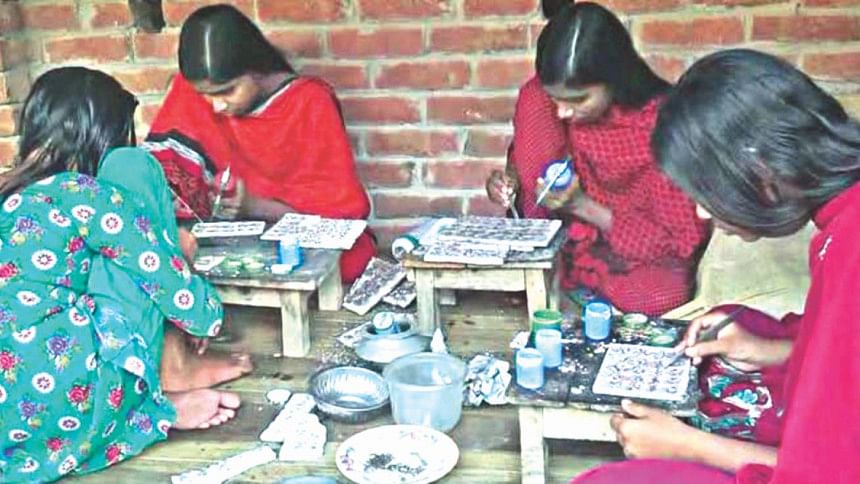 Costume jewellery makers in Jhenidah meet a significant demand of affordable fashion pieces. The factories employ thousands of artisans.
Milon City Gold in Moheshpur upazila is known across the country for quality jewellery. The entrepreneur realised that there was a gap in the market -- jewellery was either expensive or really cheap. His plan was to produce quality jewellery at affordable prices.
Its Director Milon Hossain set up two factories in 2005. The factories now employ 500 people.
Over the years, the trained artisans had spread out and now there are 13 similar factories in three unions, employing about 10,000 workers, Milon said.
The products are sold in 15 districts, including Joypurhat, Dinajpur, Sylhet, Naogaon, Laxmipur, Cumilla, Bogra, Rajshahi, Jashore and Dhaka.
The factories make nose rings, earrings, necklaces, bangles, bracelets, and lockets.
"We collect raw materials from old Dhaka. Copper and bronze are used to make these. The materials are gathered from the ruins of ships," Milon said.
The workers use fire torches to shape the ornaments.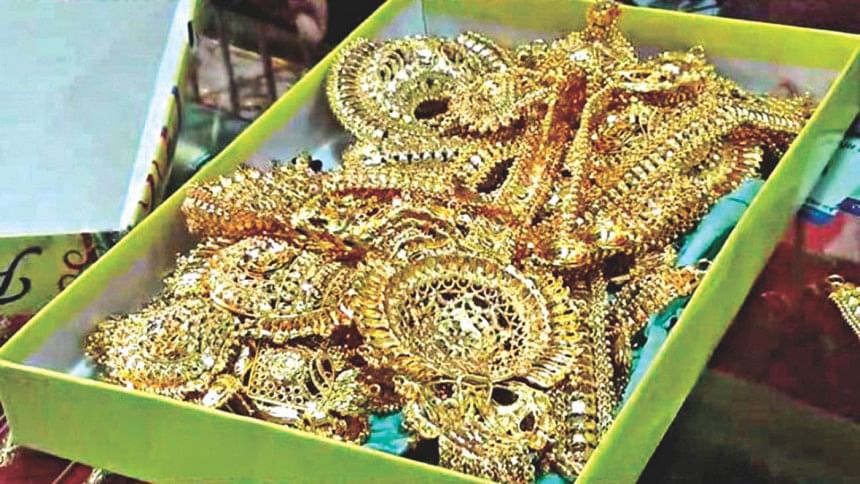 They sit on the floors, buffing and polishing until the pieces glisten. They use an electroplating device to add gold plating.
"Gold plating raises the price of our products, but the shine is long lasting."
Electroplating is a process that uses electric current to coat a relatively mundane metal, such as copper, with a thin layer of another, more precious metal, such as gold. It makes cheap metals look expensive.
Stones and crystals are added at the end.
Many villagers of Baichitala, Naudagram, Jalilpur, Jugihuda, Ramchandrapur, Bathangachi under Moheshpur start their six-hour shift from 10:00am. They earn about Tk 10,000 a month. 
There are part-time workers, mostly students, who work on weekends. They are able to make Tk 150 a day, mostly by making nose rings or attaching stones to ornaments.
Shahed Ali, an artisan of Nauda, said his family of seven mostly depends on his wages.
Mausomi Parvin, a college student, said she earns her pocket money by working there.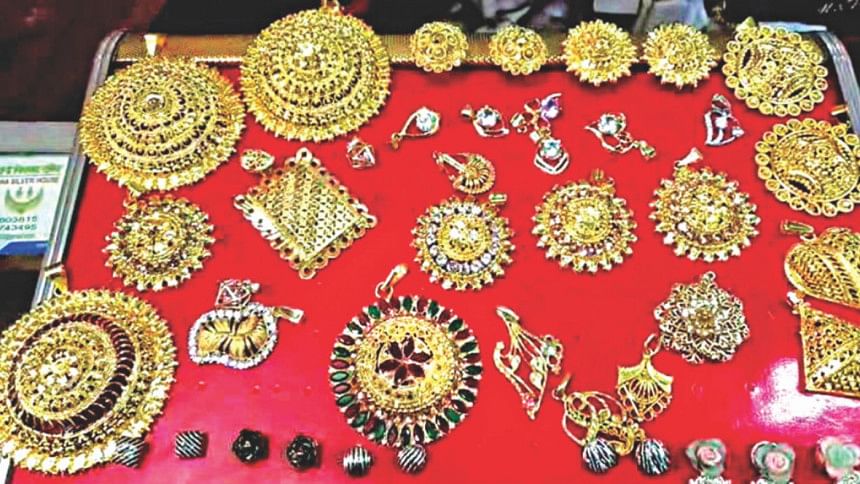 Milon said around 100,000 costume jewellery pieces are made every day at the 13 factories in the area.  Ornaments worth Tk 20 crore are sold every year, he added.
"Indian ornaments cannot compete with us on prices."
Nose rings are sold at Tk 150 and necklaces start at Tk 250.
To help craftsmen, Shishu Niloy Foundation offers training and loans worth Tk 20,000 to new entrepreneurs, said Its Executive Director Nasima Begum.
Palli Karma-Sahayak Foundation also works to make the artisans self-reliant.
Milon said there is a shortage of skilled artisans in Moheshpur. There are about 800 shops for the items in the town and each one employs at least two salespersons, he added.