Risky trips thru' rivers
Frequent accidents on Dhaka-Barishal route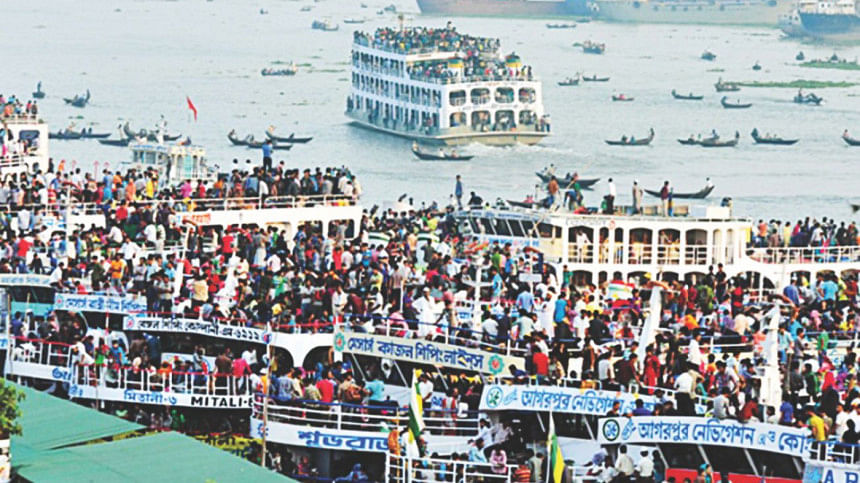 Frequent movement of unauthorised vessels, hidden islands and narrow channel have made around 50 kilometres of Dhaka-Barishal naval route extremely risky. 
Between January and August this year, at least eight accidents happened in the 50-kilometre stretch that killed two people and injured 50 more, said an official of Bangladesh Inland Water Transport Authority (BIWTA) seeking anonymity.
BIWTA banned movement of trawlers, cargo ships, bulkheads, dredgers and tankers at night but the vessels continued to ply violating the ban, alleged the official, adding that the authorities failed to prevent the illegal vessel movement.
According to BIWTA, the 168-kilometre naval route from Dhaka to Barishal carries over 40,000 passengers every day. Of the route, a 50-kilometre stretch from Charbaria to Barishal port in the Kirtankhola is highly accident prone.
On top of that, a three-kilometre route from Miar Char channel in Barishal's Mehendiganj upazila is even riskier due to its narrowness, BIWTA said.
MV Surovi-7 Captain Muhammad Abdullah said he had to move his vessel very slowly through the Miar Char channel because of its narrow path and movement of banned vessels.
The channel needs dredging too as many hidden islands have risen there, he added.
Muhammad Ruhul Amin, operator of MV Adventure-9, said, "The channel is so narrow that we don't dare overtaking another vessel. There is a high risk of fatal accidents."
Almost all the vessels have modern equipment such as radar and sonar panel but no vessel has the technology to detect hidden islands, he added.
Talking to other vessel operators, The Daily Star learned that BIWTA conducts dredging operations in the area but drops the sand near the dredging point. As a result, the sand returns to its previous positions with strong current, raising the hidden islands again.
Contacted, BIWTA Executive Engineer (dredging) Md Sultan said Miar Char channel was about 250 feet wide before it was dredged in February. After the dredging the channel became 410 feet wide.
"The hidden islands were dredged. We will dredge again if necessary," said Abdul Matin, chief engineer (dredging) of BIWTA.
Asked whether they dumped sand near dredging point, he said they had a capacity of carrying sand only two-kilometre away from the dredging point.
"Before dredging, an engineer decided where the sand would be dumped," he said, adding that there was no permanent solution to the issue and they had to conduct at least one dredging per year.
According to a survey, conducted by BIWTA in August, the average depth of Miar Char channel was between two and three meters, which may drop to less than one meter in November. A large size launch needs at least two meters' depth to ply.
Md Shajahan, director (conservancy and pilotage) of BIWTA, said they had set up sufficient number of buoy lamps near the hidden islands to warn captains.
"To enforce the ban on illegal vessel movement at night, coastguards and naval police will keep watch," he added.
Md Rafiqul Islam, deputy director of BIWTA Barishal, said they already asked launches to use Kaliganj route instead of Miar Char channel but the vessel operators did not comply with them as the route takes half an hour more than usual.