High salinity threatens fish spawning in Halda river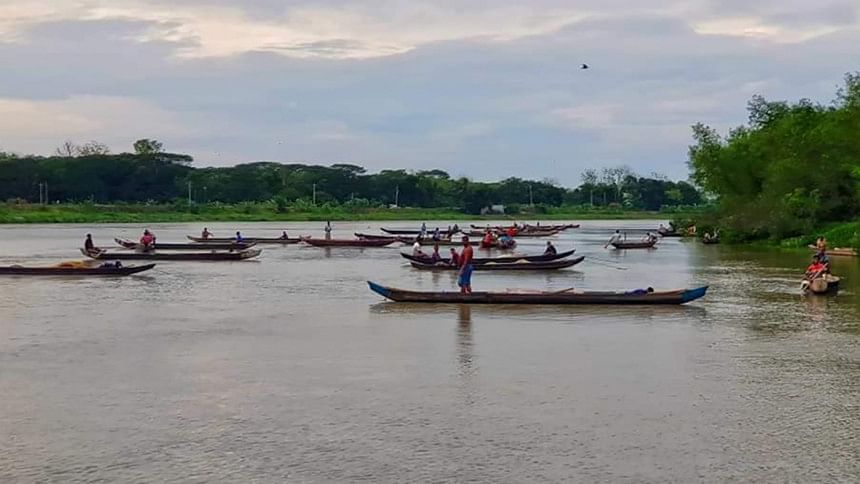 The Halda river, the lone natural breeding ground of carp-like fish in South Asia, has seen a poor yield of eggs mainly due to heavy salinity in the river water this year.    
Saline water entered the river from the sea due to cyclone Yaas. Besides, there was absence of favourable natural phenomena, including heavy torrential rain, gusty wind and thunderstorm, which contributed to the poor breeding of fish, said an eminent Halda researcher.
Brood fish spawned on Wednesday night.
Several hundred egg collectors on both banks of the Halda in Hathazari and Raozan upazilas were frustrated as they expected more eggs this year for the decrease inmanmade activities that pollute the Halda.
The authorities concerned had taken multiple measures to this end.
The government last year declared the river as Bangabandu Fisheries Heritage, banning 12 types of activities, including fishing, sand lifting, water withdrawal, plying of mechanised boats, construction of dams, and dumping of any industrial or domestic waste in the river,
Apart from this, a unit of river police was deployed to oversee the river.
Visiting the areas on the banks of the Halda, this correspondent talked to around 20 egg collectors who attributed the poor spawning of fish to their bad luck.
Monindro Jolodas of Ramdasmunsir Hat in Hathazari told this paper that once they used to live off by fishing in the Halda. As there has been a ban on fishing in the river since 2010, they wait for this time to collect eggs.
"This year, we never thought that there would have been such poor spawning of fish. It is our bad luck as there was no enough rain and water from hills. And on top of that, a rise in salinity in Halda water forced the brood fish to lay less eggs," he said.
He added that he collected three buckets of eggs last year, but this year he only got half a bucket of eggs.
Abu Bakkar, a resident of Pondit Bari along the Halda, said he sold fish fry worth Tk 18,000 last year. This year the eggs he managed to catch would not hatch as those are affected by salinity.
Echoing the view of Bakkar, Elias Hossain, a seasoned egg collector of Halda, said such salinity was seen in 1991 when a strong cyclone hit the Chattogram coast.
"I have never seen such salinity except this time since then. The cyclone that hit India contributed to a steep rise in salinity in the Halda water this time," he added.
Manzoorul Kibria, professor of Zoology department at Chattogram University, also a renowned Halda researcher, has found 77 times more salinity in Halda water in three consecutive tests at Halda Research Laboratory on Tuesday.
"The salinity found in Halda water is 36.9 PPT [parts per thousand] where the standard is 0.5 PPT," he said.
No one has ever seen this massive level of salinity. Cyclone storm Yaas has brought saline water to the Halda river from the sea, he said.
Farhana Lovely, fisheries officer of Chattogram Fisheries Department, told The Daily Star that they were collecting information of egg collection.
The fisheries and livestock ministry has formed a committee to assess the egg collection, which will send their tally to the secretary of the ministry. Later, the ministry will reveal the total amount of egg collection, she added.
Around 25,536kg of eggs were collected from the Halda last year.
About 1,000 people collect eggs from the river.