37 families lose homes to arson
Most of them from indigenous community in Naogaon; local AL man arrested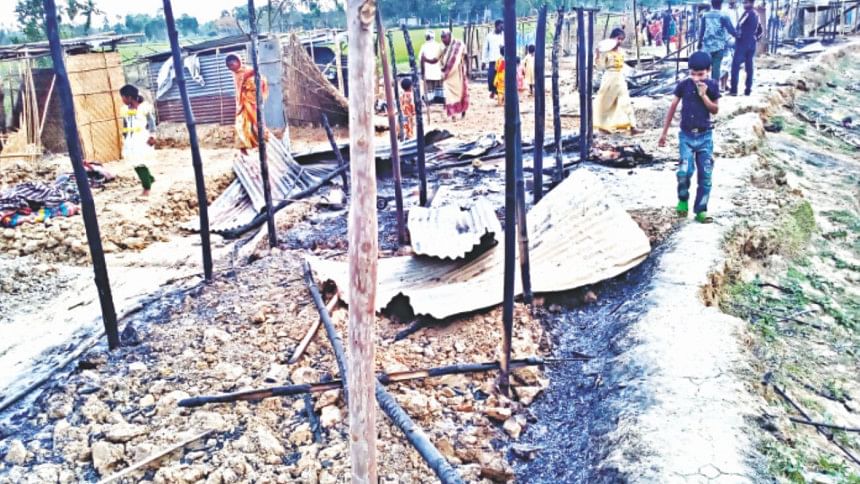 At least 37 landless families, mostly from the indigenous Pahan community, have been living in the open in Naogaon's Dhamurhat upazila since early Monday, when their shacks were burnt down while they were asleep.
The attackers, allegedly led by a ruling party man, also beat up two indigenous women who tried to save their houses from being set on fire.
Police arrested Hossain Mosharraf early yesterday after a case was filed making him the prime accused.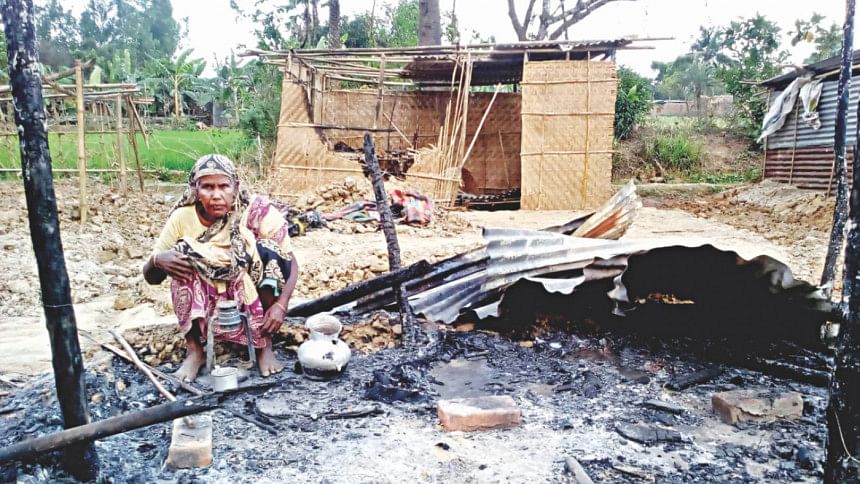 The injured women -- Shanti Pahan and Dulali Pahan --- have been admitted to a local hospital with burn and other injuries.
Locals said the attack was aimed at evicting the landless families, 23 of whom are Pahan. They had been living there for over a year.
Mosharraf had sued the families almost a year ago, claiming that the land, about 1 acre and 4 decimals, in Bostabor area belonged to him, said Noren Chandra Pahan, organising secretary of Rajshahi division unit of Jatiya Adivasi Parishad.
Locals said the attackers came around 1:00am on Monday wielding sharp weapons, sticks, and several gallons of what they thought was petrol or other inflammable fuel. They poured the fuel on the houses before setting them on fire.
"I woke up hearing loud screams and feeling extremely hot in my hut," said Basanti Munda, who narrowly escaped from being injured by running outside with her children and saw her belongings, including clothes, being burnt.
Most of the homeless people said their stock of food had also been burnt in the sudden attack.
They added that the attackers left after members of Border Guards of Bangladesh from a nearby camp rushed there noticing the fire and commotion.
"Some of us might have been dead if the BGB men hadn't appeared," Basanti said.
The 37 families started living on the disputed land 13 months ago. Monday's attack followed repeated harassment by Mosharraf and sometimes by police, the affected families alleged.
Nur Jahan, another affected woman, said she along with her neighbours was often threatened and police frequently raided their houses and picked up the men to show them arrested in different criminal cases.
"Our men cannot live with us fearing detention by police. They went into hiding," the grieving woman said.
"Most of our men were not home at the time of the attack," she said, adding that police raided their houses and arrested a man in a mugging case only two nights before the attack.
Contacted, Zakirul Islam, officer-in-charge of Dhamurhat Police Station, said the allegation was baseless.
He added that police learnt about the incident around at 9:00am on Monday and, following a primary investigation, they arrested Mosharraf.
"No one was harassed with false cases," he said.
Naogaon Deputy Commissioner Mizanur Rahman visited the village yesterday and distributed 20kg rice and Tk 5,000 to each affected family and ordered setting up a temporary police camp to protect them from any further attacks.
"I don't know who among the feuding groups have legal claim over the land. The khas land was never leased out to the landless families," the DC said.
The DC had called claimants of the land to his office to find out more about the land in question. "Through discussion, I hope we will be able to arrange a solution."
Lt Col Md Zahid Hasan, commanding officer of BGB 14 battalion said, the BGB men went to the spot, doused the fire, and took wounded people to a hospital. But the attackers had fled before the BGB men reached there.