Cancer Detection: Mobile clinic offers free diagnosis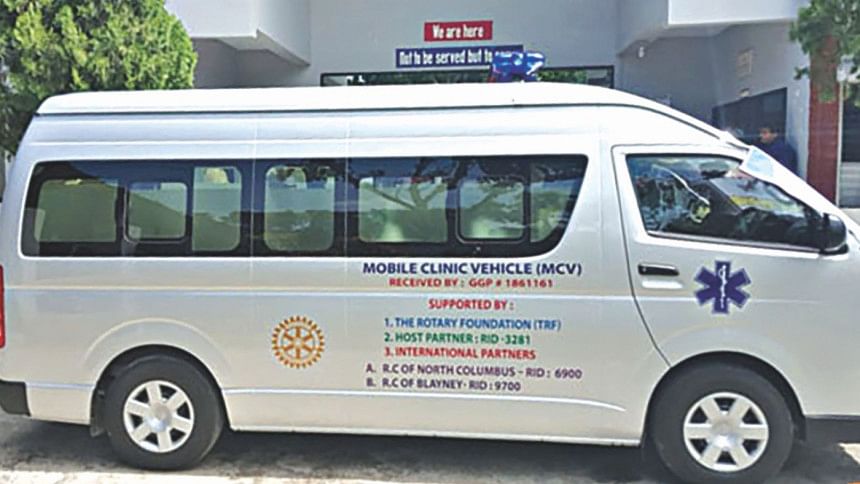 When it comes to breast and cervical cancer detection, a small mobile clinic has been able to make great strides.
Lack of awareness coupled with social stigma discourages marginalised women in Bangladesh to take treatment for breast and cervical cancers, a problem experts believe can be eliminated through extensive outreach programmes.
Conventional awareness programmes are not enough to have patients seek medical help, they said, adding, the patients do not get treatment due to poor socio-economic status and social stigma.
A Mobile Clinic Vehicle (MCV), launched recently, is being deemed a handy tool to influence breast and cervical cancer patients in remote areas.
Funded by a trust, the mobile clinic, first of its kind in Bangladesh, was launched in Rajshahi in August this year. The clinic is well-equipped and runs ultrasonography, mammography and other necessary tests to detect cancer for free.
Its medical team includes one male and one female physician, one nurse, two paramedics, and one technician, said Patrick Bipul Biswas, founder of the mobile screening unit.
A bitter experience in 2014 led him to create the alternative, said Biswas, also founder of the Rajshahi Cancer Hospital and Research Centre Trust.
"In July 2014, we detected some patients during a vaccination programme. We asked them to get tested at a nearby hospital but they did not. One of them came back after two months with advanced stage breast cancer," he said.
The oncologist said his trust received financial support from the Rotary Global Grant for starting the MCV.
"We conducted a seminar using multimedia projectors where we taught women how to examine breasts for early detection and provided vaccines for cervical cancer," said Biswas.
Mili, a resident of Rajshahi's Bashmari village, has recently got tested by the MCV. She was happy that nothing was detected and she got free vaccines. Mita, Khadija and Nargis of Gownpara village had similar experience.
The Community Oncology Foundation had been trying to raise awareness for one year but had not been able to reach remote areas, said president of the foundation Prof Sabera Khatun.
"Such a well-equipped mobile clinic can be handy to run such programmes," said Sabera, also the chairman of Gynecological Oncology at Bangabandhu Sheikh Mujib Medical University.
"A cancer patient can be cured if the disease is detected at an early stage. A mobile screening unit can very well serve the purpose," said Habibullah Talukder, head of Cancer Epidemiology Department at the National Institute of Cancer Research & Hospital (NICRH).
Moarraf Hossen, director at NICRH, however, said he was not aware of the mobile clinic. He noted that such clinics may operate in line with the guidelines of the Directorate General of Health Services.
According to World Health Organisation, breast and cervical cancer are common among women in Bangladesh. Every year, 14,836 cases of breast cancers and 11,956 cases of cervical cancers are detected in Bangladesh.