Cancer treatment facilities scanty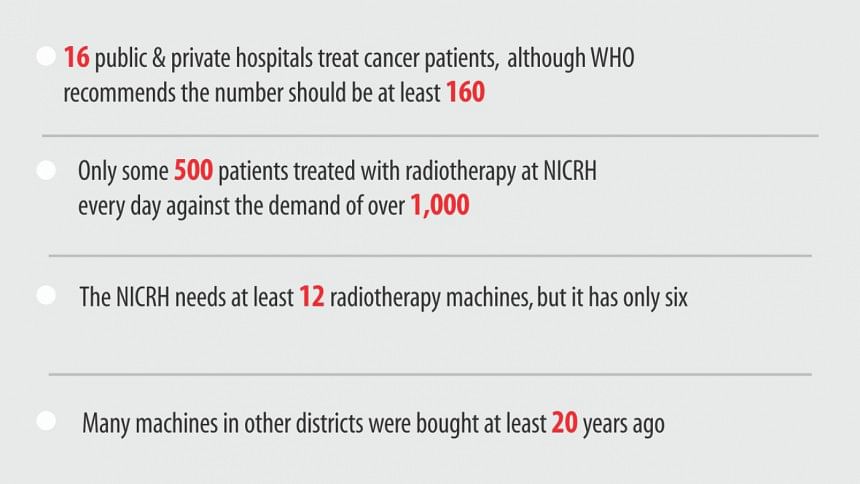 For months, Halima Begum shuttled between her hometown Barisal and Dhaka several times for radiotherapy at the capital's National Institute of Cancer Research and Hospital (NICRH).
Every time, the 33-year-old had to return home without the therapy she badly needed, as she did not get an appointment.
The last time she visited the hospital was on October 26. On the same day, several other cancer patients were refused immediate radiotherapy as the hospital struggles to cope with the daily flow of patients.
On average, 1,000 patients seek appointments for radiotherapy every day at the NICRH in Mohakhali, the lone specialised government hospital of its kind in the country.
With only six machines, it can offer services to 450-500 patients at best per day, said hospital Director Moarraf Hossen.
Radiotherapy or radiation therapy is part of cancer treatment to control or kill malignant cells. 
When the biggest cancer hospital in the country was built in 1989, it had only outdoor facilities. Three years later, it got 50 beds for indoor patients. Later in 2009, 100 more beds were added. With the addition of another 150 beds in 2014, it is now a 300-bed hospital.
But it is nowhere near enough because the number of patients seeking treatment there are on the rise.
So even if the hospital is expanded to a 2,000-bed one, the pressure will not ease unless cancer treatment is made available across the country, the director said.
Latest data is difficult to get, but according to a 2012 report of GLOBOCAN, a project of the World Health Organisation, some 1.22 lakh new cancer cases are reported in Bangladesh every year. Of them, around 91,000 die, most of them from breast and lung cancer.
Tobacco, alcohol, obesity, food contamination, unhealthy diet with low fruit and vegetable intake, lack of physical activity, infection, radiation and air pollution are among the main causes for cancer.
However, if detected early, cancer can be cured and that too at a minimum cost.
In Bangladesh, cancer casualty is very high as up to 90 percent patients report it at the last stage. Another problem is the lack of treatment facilities.
Besides the NICRH, 15 government and private hospitals across the country have logistics for cancer treatment. Of them, Dhaka Medical College Hospital (DMCH) has only two radiotherapy machines, one of them inoperative.
Outside the capital, government hospitals in Rajshahi, Bogra, Barisal, Mymensingh, Rangpur, Sylhet and Chittagong have radiotherapy machines. Many of them were bought at least 20 years ago and do not function properly, sources said. 
This is one of the reasons why so many patients flock to the capital, particularly the NICRH and the DMCH. 
In 2014, the NICRH treated 11,108 cancer patients.
At the DMCH, some 200 cancer patients come for radiotherapy every day. The hospital can treat about 80 with the single machine functioning, said Swapan Bandyopadhyaa, associate professor at the radiotherapy department.
The government has recently purchased three radiotherapy machines to be installed at Chittagong, Khulna and Barisal medical college hospitals, said AKM Saiedur Rahman, deputy director (hospital-1) of the Directorate General of Health Services (DGHS). 
A process is on to buy nine more by June, he added.
According to the WHO, Bangladesh should have at least 160 radiotherapy centres considering its population, said Mofizur Rahman, associate professor of radiation oncology at the National Institute of ENT (Ear Nose Throat). But the country has only 16 -- nine government hospitals, six private hospitals and one Combined Military Hospital.
To better cancer treatment, the government must have sufficient data regarding cancer patients across the country, said Swapan of DMCH.
Habibullah Talukdar Raskin, associate professor and head of the cancer epidemiology department at NICRH, suggested that the government set up cancer treatment facilities at division, district and upazila levels where people can go for early detection and regular screening.
Talking about the problems they face, he said they now had adequate manpower and expertise, but needed six more therapy machines.
Majority of the patients in the country seek treatment when their cancer is at the advanced stage when they need radiotherapy.
At government hospitals, a full course of radiotherapy costs between Tk 15,000 to Tk 30,000. Most of those who go to public hospitals belong to lower and lower-middle income groups. Many of them cannot afford the cost and give up halfway through the treatment.
At private hospitals, the cost is between Tk 1 lakh and 2.5 lakh.
Swapan of DMCH radiotherapy department said the government should have funds to provide free chemotherapy and radiotherapy to the poor.
The NICRH gives free radiotherapy to four to five patients a day considering their financial status.
Halima, who used to work at a garment factory before her cancer was detected, had a free operation for her breast cancer at the NICRH. But for medicines and other post-operative cares, she had to spend more than Tk 20,000, which is way beyond her means.
Now she is trying to get her radiotherapy for free, for which she got an appointment on Monday.
"I'm not feeling well," she told this correspondent by phone last night.