95pc structures in Rajuk area non-compliant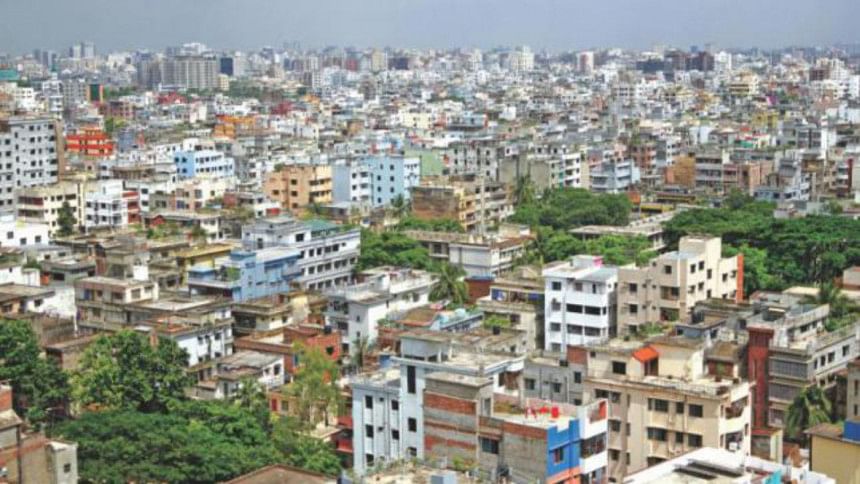 Over 95 percent of the structures under Rajuk's jurisdiction were built without building approval, according to survey findings for the ongoing revision of the capital city's Detailed Area Plan (DAP).
The incapability of Rajdhani Unnayan Kartripakkha (Rajuk) in enforcing the building construction law and development plan over its vast 1,528-square kilometre jurisdiction has led to the capital growing in an unplanned fashion, said leading urban planners.
Owners of the huge number of one or two-storied structures do not come to Rajuk to obtain building approval, as they cannot comply with the preconditions provided in the building law, said Khondker Neaz Rahman, a deputy team leader of the consultant for DAP revision.  
"The building law has been made applicable so arbitrarily to small structures that majority of the population cannot comply with it nor Rajuk can enforce it either," he said.
The building construction rules require that any structure, including tin-roofed or semi-concrete one-storey, measuring 200 square metres or less has to have a car parking space if the owner wants to obtain a building construction permit.
Neaz said that a pre-condition like this was just absurd. The DAP interim report cites that of the 18 million population in the master plan area of Dhaka city, only about 4 percent own private cars. But this tiny fraction of car-owning population occupies 88 percent of the city's available road space, he said.
Then there is another precondition that a landowner is not eligible for a building approval if the plot is not on at least a 20-foot wide road.
According to a survey, of a total of 13,525km roads in the DAP area, width of only 12 percent roads is 20-foot and more.
"So, by default, such arbitrary rules render 95 percent houses illegal," said Neaz adding that legally those cannot get water, electricity and gas supplies and are denied housing loans.
Prof Adil Mohammed Khan, who conducted a study on density zoning for the ongoing DAP preparation, said, "About 80 percent of the master plan area is growing unplanned with messy development and poor living conditions posing danger to people and the environment." 
It is unrealistic and impractical on Rajuk's part to try to enforce control over such an extensive area, he said, adding that building plan and development control in the fringes of the master plan area should be left to municipalities with required professionals.   
The survey -- conducted by an urban planning consultancy firm hired by Rajuk -- found more than 83 percent of the structures in the said jurisdiction to be one-storey.
Two to six-storey structures constitute about 15 percent, while less than one percent of the structures are seven to ten-storied and above. Buildings with ten-storey and above height constitute a meagre 0.15 percent of the total. 
The figure includes even one-room and one-storey structures.
Apart from the core Dhaka city area, Rajuk area also includes Narayanganj, Keraniganj, Tongi, Savar and Badda. 
Khondker M Ansar Hossain, who worked as a senior urban planner on the first DAP preparation, said that these findings expose the hollowness of Rajuk as a building regulator.
Population density in about 70 percent of Dhaka city corporation area is nine times higher than it can ideally accommodate, said Prof Adil Mohammed Khan, who is also general secretary of Bangladesh Institute of Planners, mentioning the ideal density to be 120 to 200 inhabitants per acre.
Contacted, immediate-past Rajuk chairman Md Abdur Rahman in April said that the number of unapproved structures was not correct and that he would find out the correct figure.
Contacted two weeks later, he said, "I could not manage time to check it."
As to Rajuk's attempt to cover a so vast area, he said it was a matter of government decision.
He, however, at a seminar at the Bangladesh Institute of Planners in early August last year had agreed that 80 percent of the capital city area was being developed unplanned.
According to a 2006 survey for drawing up the detailed area plan, the number of structures in Rajuk area was 11, 96,000. The survey conducted during 2016-17 for revision of DAP found 21,46,000 structures in the said area.
So, over a decade, 9.5 lakhs structures were built in the said area of Rajuk master plan, with a yearly average increase of 95, 000 structures.
Rajuk issued 12,527 building approvals in three years until June 2017, according to its annual reports. On annual average, this figure constitutes less than five percent of the structures built annually.