Muhith pledges steps on loan anomalies at Janata Bank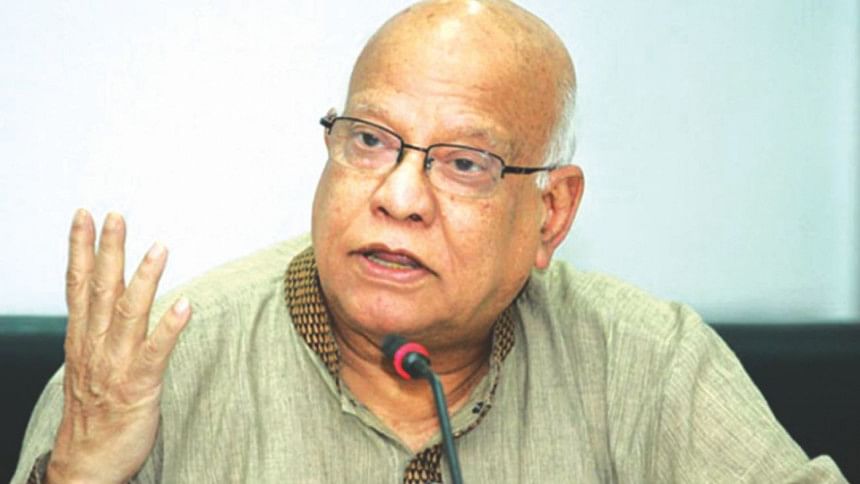 Finance Minister AMA Muhith yesterday said necessary steps will be taken regarding the alleged loan irregularities at state-owned Janata Bank.
Muhith said this while speaking at a prize-giving ceremony organised by the National Board of Revenue.
Asked about a news report on the bank in the Prothom Alo, the minister said he had no knowledge that huge amounts of loans were disbursed when Abul Barkat, professor of economics at Dhaka University, was the bank's chairman.
Muhith, however, said he was aware that loans ranging from Tk 300 crore to 400 crore were given against fictitious names. "A bad precedent was set."
Janata was a good bank but it was ruined during Barkat's tenure, he added.
The bank disbursed more than Tk 5,504 crore to a little-known group, AnonTex, between 2010 and 2015. A Dhaka-based businessman named Md Younus Badal is managing director of the group.
Officials of Bangladesh Bank and Janata Bank said the big loans were sanctioned and disbursed in violation of the credit discipline.
The major portion of the loans was given to 22 companies of the group through Letters of Credit and Cash Credit when Barkat was the bank's chairman between 2009 and 2015. 
But the companies did not repay the loans and became defaulters.
The bank, however, rescheduled the loans later.
Contacted, Barkat said the group had set up industrial units following European standards, and its loan repayment was very good during his stint as the bank chairman.
Asked whether he inspected the factories of the group, he said he had not visited those but top officials of Janata Bank and a number of academicians and students of industrial economics at the DU had earlier visited the factories.
All of them had said the factories were of European standards, claimed Barkat.
Responding to a question, he asked this correspondent to find out when the group had stopped repaying the loans.
"I left the bank three years ago, and another person was appointed as its chairman," he added.