To win votes with bluff: BNP's take on budget
BNP rejects budget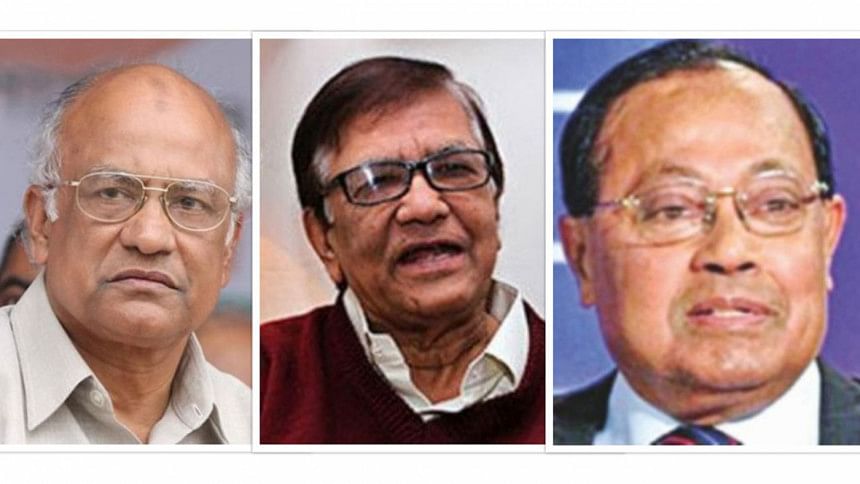 BNP strongly criticised the budget Finance Minister AMA Muhith placed in the parliament today, saying it is imaginary and aimed to gain popularity ahead of the election.
It is an electoral budget designed to bluff people ahead of the upcoming general election, said BNP standing committee members Khandaker Mosharraf Hossain, Lt Gen (Retd) Mahbubur Rahman and Moudud Ahmed, equivocally.
Describing the proposed budget as imaginary, Mosharraf said the government has designed the big budget only to garner votes in the next general election.
"It is unrealistic budget," he said, adding that the government will not be able to implement the budget due to shortcoming of its financial capacity.
Later, while addressing an iftar party in Dhaka, Mosharraf rejected the proposed national budget saying that it is not a pro-people one.
Claiming that the government has placed a credit dependent budget that will increase the burden of loan on people, Mosharraf said, "It will not serve the people's interest and thus we are rejecting the budget."
About the revenue collection target, the former minister raised a question over the government's capability to achieve the target and said the common people will be affected in meeting the goal.
"It is an eyewash and un-implementable budget," he said adding that the volume of internal investment and trade and commerce will come down due to the adverse impact of the budget.
He said import and supplementary taxes, regulatory duty and VAT on some goods have been increased through the proposed budget.
VAT on readymade garment items has been increased while the tariff value has also been increased, Mosharraf said.
"VAT on around 1100 products has been increased and e-commerce has been kept under the purview of the VAT while corporate tax has been decreased. It means rich men will become richer and the poor to be poorer," he said.
While talking to The Daily Star, Mahbubur Rahman criticised the government for placing such big budget on unrealistic grounds. "He (Muhith) has tried to ensure people's overall happiness on an unrealistic ground."
Moudud Ahmed, in an impromptu reaction, said the government has compromised many issues for the next general election.
"So it did not have the courage to touch some of the fundamental issues in any meaningful manner. It is an electoral budget," the former law minister said.
He said there is no indication in the proposed budget to get rid of the setback prevailing in the country's banking and financial sector.
Expressing concern of the size of the proposed budget, Moudud said it is a politically motivated budget that will not bring any good result for the common people.
Earlier in the day, Finance Minister AMA Muhith placed around Tk 4,64,573 crore national budget in the parliament for the fiscal year 2018-19. Targeting growth of 7.8 per cent, the budget has a deficit worth a staggering TK 1,25,293 crore.