Nature quest
Marbled cats still exist in Srimangal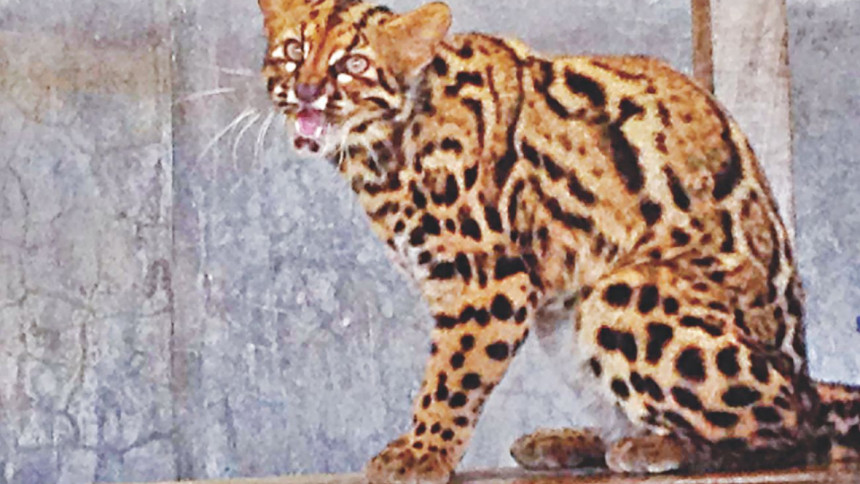 Unlike usual stories of animals nearing extinction, the forests of Moulvibazar brought forth an entirely different tale a couple of years ago. 
Around three and a half years ago, a four to five days old kitten was rescued in the remote village of Niralapunjee in Srimangal. The kitten looked very different from any other cat seen in the region before.
Unbeknownst to the rescuers at the time, the cat they had found was the beautiful marbled cat, scientific name Pardofelis Marmorata, a species thought to be extinct in the country since independence.
At the time, wildlife experts believed that the creature had been long extinct and was probably the last of its kind. Wildlife specialist Sharif Khan was the first to correctly identify the animal.
He told this correspondent that after the country's liberation war, these wildcats were thought to have all died out and could not be found anywhere. As a result, many people thought that it was extinct from the country. This was the first time it was found in the country.
The cat has been under the care of the Bangladesh Wildlife Service Foundation in Srimangal upazila of Moulvibazar in their zoo.
Swapan Deb Sojol, director of the wild animal care foundation, told this correspondent that when they found the kitten, its eyes were yet to open. They realised that it would be very difficult to save the animal.
But no one was willing to give up on the little creature. First, they fed him cow's milk using a dropper. As it grew bigger and stronger, the dropper was replaced with a feeder. Like a human child, it slept wrapping itself in a towel.
Nowadays, he can eat on his own, preferring pigeons, quails, rooster and other small birds.
Tabibur Rahman, Assistant conservator of wildlife management and nature conservation department in Moulvibazar told this correspondent that marbled cats are valued for their skin, meat and bones. Thus, this poses a threat to their existence.
Dr. M Monirul H. Khan, professor of the zoology department at Jahangirnagar University told this correspondent, that marbled cats were once found deep in the forests of Sylhet, Mymensingh and Chittagong Hill Tracts. It feeds on small birds, birds' eggs, kittens, wild rabbits, big rats, frogs etc. A mother cat can give birth to one to four children together, which mature in around 21 months. 
Larger than a domestic cat, it measures 3 feet in total length, half of which consists of its tail.
As a sub-genus, pardofelis, the marbled cat is distinguished from the leopard-cat and other oriental relatives by the structural differences of its skull which is short, broad and more rounded, and has wider cheek arches. Wild marbled cats have an average life expectancy of about 12 years.