Fish dying in Hakaluki haor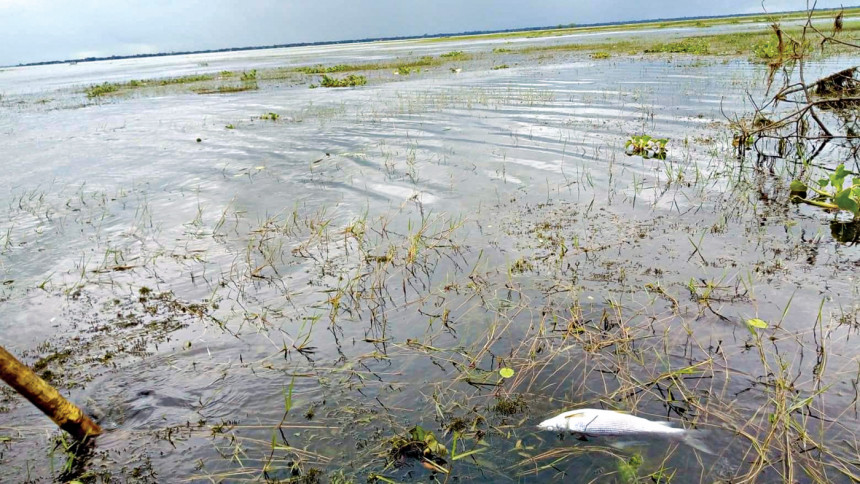 When farmers were looking forward to some earnings by fishing, the Hakaluki haor in Moulvibazar has turned into a contaminated wetland with dead fish floating ashore.
According to the district's fisheries department, the deaths have been caused by ammonia released by rotten weeds. The gas is replacing the oxygen dissolved in the water. 
The Hakaluki haor flows over 28,000-hectare land in four upazilas of Moulvibazar and one upazila of Sylhet in north-east Bangladesh. 
Sight of dead fishes lying ashore have been visible since Sunday in Gourkul, Chokia, Dholia, Nagua, Kanli, and Hawabonna swamps.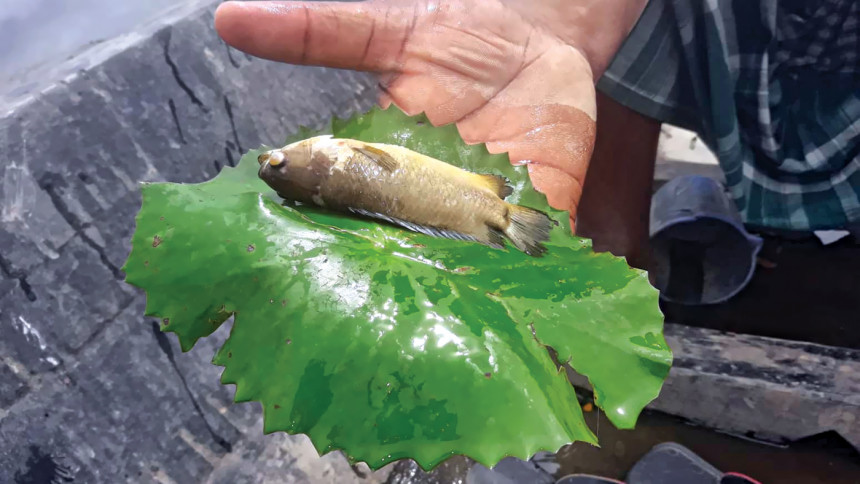 Puti, Tengra, Veda, Bailla, fries of Boal, Pabda, and Rui are among the dead fish emitting stench in the adjacent areas. 
Fish is the second cash crop for farmers of Kulaura, Juri, and Barlekha upazilas of Moulvibazar. 
Abdul Kadir of Bhuksimoil village of Kulaura told this paper, "This year, I incurred losses after selling Boro paddy through middle men. I thought we will survive by catching fish from the haor. But now fish are dying just like in 2017." 
After flashfloods in 2017, fish in the rich haor died posing health hazards. It came as a double blow for farmers as they had lost acres of paddy just weeks ahead of the annual harvest season due to flood. 
"Weeds have died and started to rot lately.  As a result, the fish are dying and the water quality is also deteriorating," said Moulvibazar District Fisheries Officer Emdadul Haque. 
When asked what measures the authorities were taking, Sultan Mahmud, senior fisheries officer in Kulaura, said, "We have started pouring zeolite and timsen in the haor. These substances help remove ammonia and bring temperature of water under control."  
Abdul Karim, general secretary of Bangladesh Poribesh Andolon Sylhet chapter, said, "At this time of the year, mother fish produce millions of fries in swamps of Hakaluki. But this time they are dying. This might lead to scarcity of fish in upcoming days."
Besides, the haor was home to many animals, birds, and a large variety of flora and fauna, he added. 
"The water has become polluted by the rotten weed and dead fish. Usage of this water may cause skin diseases and respiratory problems," said Partho Sarathi Datta Kanungo, superintendent of 250-bed Moulvibazar District Hospital, asking people not to consume the water or the fish. 
Marufatuzzahan, chairman of the Animal and Fish Biotechnology Department at Sylhet Agricultural University, said, "Rotten weed could be partially responsible for increase of acid levels in the water, but studies need to be done to determine what actually cost the lives of the fish."