Bengal loach returns to Hakaluki Haor after nearly a decade
Exactly when the world went into a complete standstill due to the coronavirus outbreak, it was also time for Bengal loach or Rani fish to breed. Good weather and total absence of people from the haors due to a shutdown resulted in their return.
Bengal loach has many other local names -- rani fish, bride fish, bou rani -- and was first described by Hamilton in 1822, said Senior Fisheries Officer of Moulvibazar's Sadar upazila.
Due to Covid-19 shutdown, many fishermen did not go to the haor. In fact, from March to June this year, nature was left completely alone.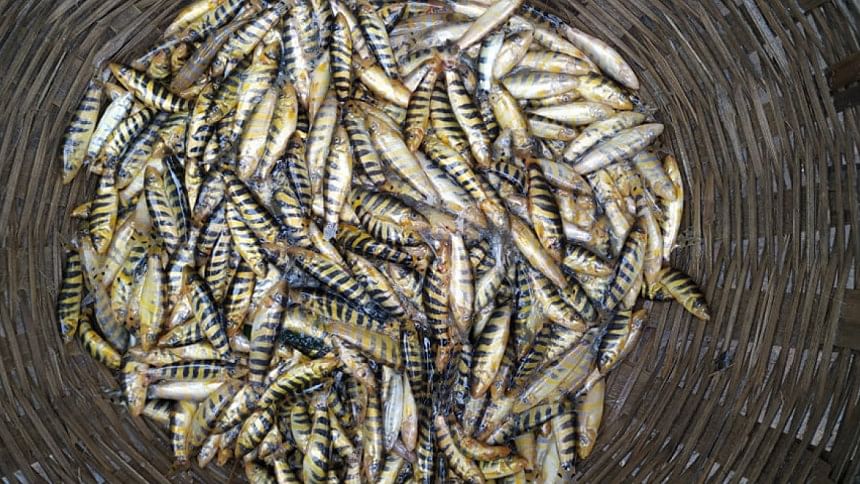 Mohan Biswas, a fisherman from Bhuksimul village area in Moulvibazar's Kulaura said this fish was lost from natural wetlands due to many reasons, but is now being caught in their nets again.
In the last ten years, fishermen used to catch only one or two queen fish in their nets but this year fishermen are hauling in huge queen fish from the haor.
Mosabbir Ali, a fish trader from Chandpur bazaar in Sylhet's Fenchuganj, said the demand for this fish is very high. Each kilogramme costs between Tk 2,000 to Tk 2,500.
"I used to sell one kg every day before. I collected it from the fishermen and would then sell it after putting a good amount together," said Mosabbir.
"I have started selling it again for the last few days after nearly a gap of ten years. Several fishermen are providing one kg of Rani fish every two or three days."
Md Sultan Mahmud, senior fisheries officer of Moulvibazar Sadar, said the fish breeds between March and June. This year the breeding period coincided with the coronavirus lockdown.
"There were also floods and rains at the same time which are most conducive for their breeding."
Bengal loach feeds on insects, larvae, crustaceans, and some plant matter. In the wild they can grow up to six inches (15.2 cm) in length. However, they only reach about 2.5 inches (6.5 cm) in the aquarium, with a lifespan of about five to eight years. The fish hide during the day and become active in the evening.
Dr Nirmal Chandra Roy, associate professor of Biology & Genetics department in Sylhet Agricultural University, said the return of the fishes can be attributed to the demarcation of some water bodies in the haor as fish sanctuaries.
Local fishermen say their recent catches have yielded increasing number of queen fish.
The senior fisheries officer said, the government declared Hakaluki Haor as permanent fish sanctuary in 2012.