Hakaluki under threat: Illegal fishing goes on unabated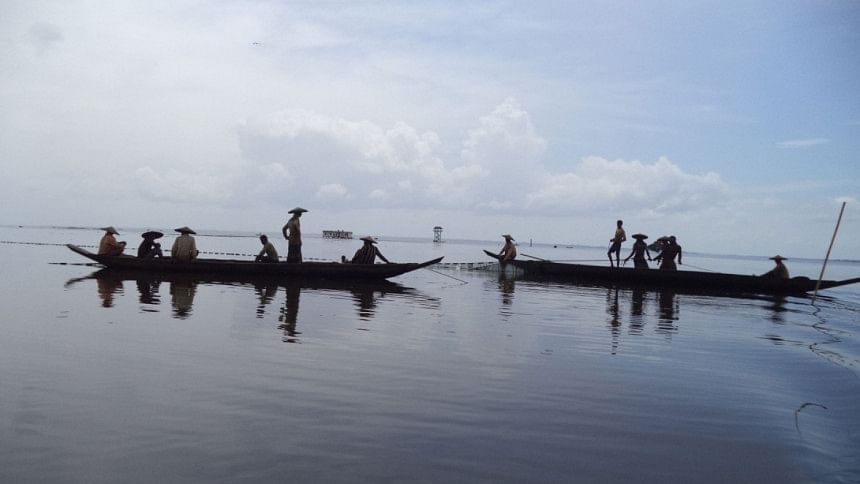 South Asia's largest wetland ecosystem, the Hakaluki haor, is currently under threat as its fish population and aquatic plants is in decline due to illegal fishing.
The haor used to have around 110 species of native fish. At present, however, that number's gone down to 50. A few species of fish -- Morayek, Gang Magur, Rita, Nanid, Baghair, Chital, Rani Fish, Elong -- have almost disappeared.
Prof Dr Md Shahab Uddin of the fisheries department at Sylhet Agricultural University said due to the unabated catching of fish, at least 54 varieties  are now under threat.
Touhidur Rahman, CNRS site officer, said even 15 years ago, there  were more than 25 protected areas in the haor. At present, the number of  protected areas is only 11. Fishing is prohibited in only three of  them.
Locals said fishers are using current nets to catch fish, even though it is prohibited to use such nets.
"Various species of aquatic plants including Makhna, Padma, Singra, Shapla, Bantulsi, Nalkhagra, Helencha, Ballua, Challia are now extinct," said Abdul Kadir of Moulvibazar.
"Due to this small fish and aquatic plants are also getting caught in these nets," said Suman Sutradhar, a  resident of Bhuksimoil area in Kulaura.
Almost 3,000 fishing families live in Kulaura's Sadipur on the banks of haor, Shahpur of Juri, and  Belagaon villages. During the rainy season, water remains in the haor for four to five months.
Khorshed Alam, a local environment activist in Juri upazila, said Hakaluki is also facing an environmental crisis as its biodiversity is under threat due to pollution.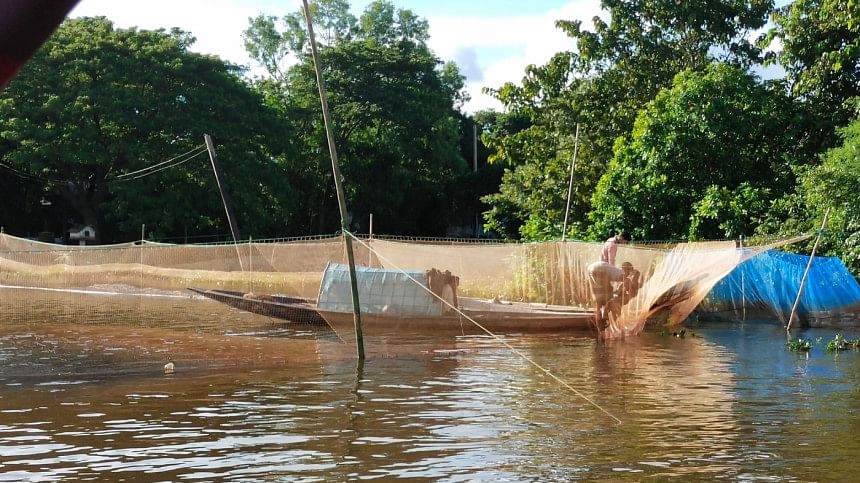 "During the rainy season, fishers catch fish here, which disrupts the breeding time of native fish. Planned development projects should be undertaken to protect the haor's environment," he added.
Assistant Commissioner (Land) and Executive Magistrate Jahangir Hossain said the administration conducted drives in Kanongo market of the haor on August 6 and confiscated electric nets. They also fined some traders in this regard.Mir Nahid Ahsan, deputy commissioner of Moulvibazar, said drives are being conducted in Kulaura, Juri and Barlekha upazilas of Hakaluki every three days. Banned current nets and barbed nets have been seized and burnt in most prominent areas.
"Along with making Hakaluki's residents aware, we are also running campaigns to protect its fish and biodiversity," he added.
Md Anwar Hossain, deputy director of Sylhet Fisheries Department, said the government has completely banned the catching of fish fries. "We're also conducting mobile court drives in this regard."