1,200 tonnes of fish died in haors: Govt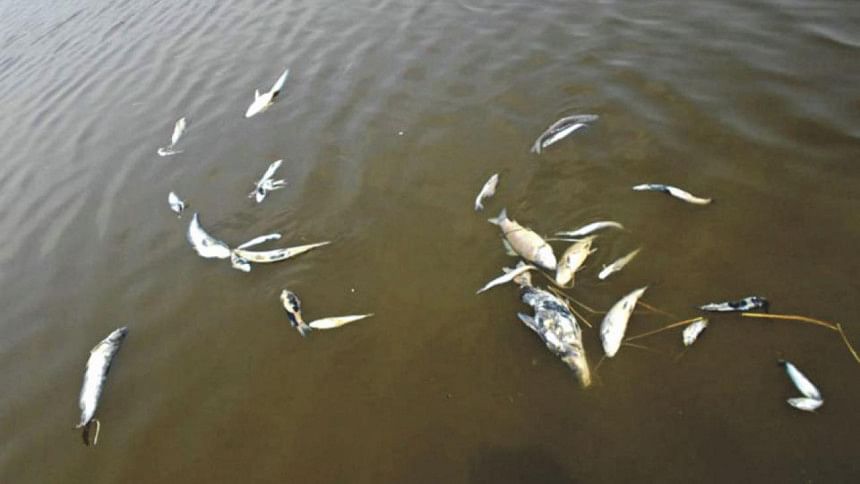 About 1,276 tonnes of fish died in haor areas of four districts following last month's flash flood caused by incessant rain, a government report says.
In total, over 74,500 fishermen were affected due to the deaths of fish, the report obtained by The Daily Star, read.
Of the total, 25 tonnes of fish died in Moulvibazar, 49.75 tonnes in Sunamganj, 1180.85 tonnes in Netrakona and 21 tonnes in Sylhet.
No information on deaths of fish was available from Habiganj, Brahmanbaria and Kishoreganj, the report said.
And of the total affected fishermen, 4,000 are from Moulvibazar, 44,445 in Sunamganj, 16,528 in Netrakona and 9,653 in Sylhet.
The report also proposed for distributing 20 kilogrammes of rice to each affected fishermen for the duration of a month. For this, it estimated that 1492.48 tonnes of rice will be needed.
Cause: Fall of pH and oxygen levels, rise of amonia
Fish in some of the parts of the haor areas have died due to a fall of pH and oxygen levels and a rise of ammonia in the waters, the report said based on information from the districts.
The pH level fell to 5 from 6.5 and oxygen .02ppm from 3.0-4.0ppm during the flash flooding.
Level of ammonia rose to 1.00ppm from the usual level of .02ppm, the report added.
Six vigilance teams were formed in Moulvibazar, Sunamganj, Sylhet, Hobiganj, Brahmanbaria, Kishoreganj and Netrakona districts.
The teams are visiting the haor areas and testing quality of water.
A team led by a joint secretary of the ministry has been engaged in inspecting activities on the field levels.