Rain damages Sunamganj Shanir haor dam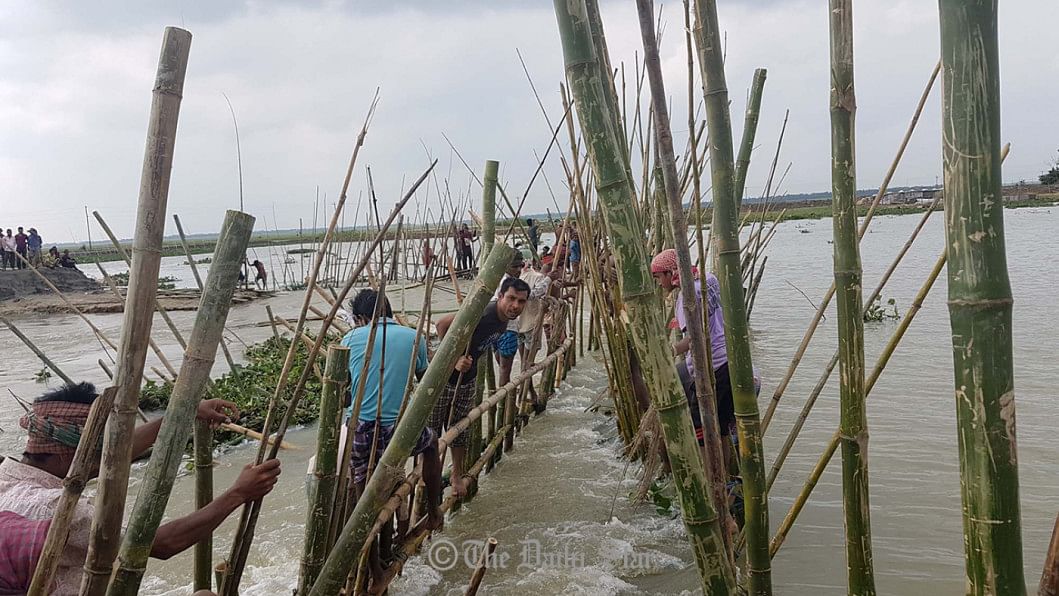 All measures taken by locals to save the dam along the Shanir Haor in Sunamganj have failed due to excessive rains and onrush of upstream hill waters.
As the embankment was damaged at three points, water from the haor is now entering the villages in Tahirpur upazila, reports our Moulvibazar correspondent.
Shanir Haor, was the lone haor which remained safe from the upstream hill water as villagers were trying to repair the dam for the last 24 days. There are total 22 haors, including Shanir Haor, in Tahirpur upazila.
READ MORE Havoc in Haors: Fish dying further down
"Around 5,000 workers were trying to repair the dam that was built by bamboo and sand-filled sacks," said Md Borhanuddin, chairman of Tahirpur Sadar union.
The onrush water is entering through three points -- Lalur Goala, Ahammak Khali and Radhapur, the chairman said.
Nurul Huda, chairman of Sunamganj district council, blamed Water Development Board (WDB) officials for the damaging of the embankment. "Had they (WDB officials) worked and monitored properly, it would not have happened," he said.
However, the effort of the villagers to save the embankment is praiseworthy, said Tahirpur Upazila Nirbahi Officer Md Saiful Islam.