Havoc in Haors: Fish dying further down
Atomic energy team to check radioactive materials in Sunamganj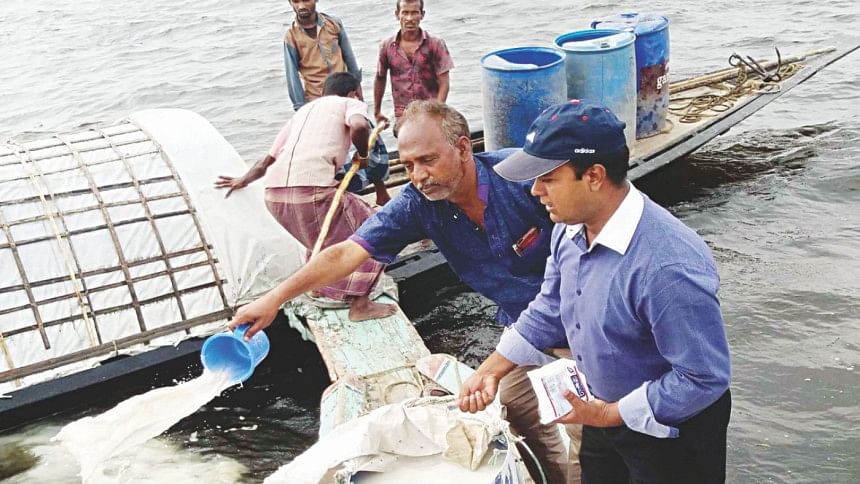 A team of experts dispatched by the government reached Sunamganj yesterday to collect water samples from the haors there for lab test at the Bangladesh Atomic Energy Commission in order to ascertain whether there is any radioactive materials in the waters.
Reports of an outcry across the border over India's exposing open pits of uranium to Ranikor River basin causing deaths of fish in Meghalaya and subsequent deaths of ducks, fish and other aquatic animals in Bangladesh's northeastern haor belt prompted the government to send the 10-member team.
The team was sent at a time when fisheries department yesterday gave a primary estimate of deaths of 800 metric tonnes (MT) of fish worth over Tk 25 crore in Netrakona, further down to some parts of Sunamganj's haor zone closer to India's Ranikor basin.    
"We are sending our experts to the haor area. They will collect samples and examine them to determine why fish died there," Science and Technology Minister Yafes Osman told The Daily Star.
India's Khasi communities living in Ranikor River basins, just across the Indo-Bangla border near Sunamganj's haor zone, raised alarm after the deaths of their river as well as fish due to what they suspect was uranium toxins from an estimated 1,500 drilling pits kept open and exposed in close vicinities.
Meanwhile, a three-member team from the Department of Environment led by Director Mostafizur Rahman will also go to Sunamganj today to find out why the Haor waters were "contaminated".
Yesterday, while addressing a citizens' rally at Sylhet's Central Shaheed Minar, speakers raised concern at uranium exploration in Sunamganj's upstream in Meghalaya and demanded a proper investigation to see whether "contaminated water" from upstream caused the loss of aquatics. 
Prof Md Mehedy Hasan Khan of Sylhet Agriculture University said it was needed to be determined whether water contaminated by uranium pits reached down to the Sylhet region.
Bangladesh Poribesh Andolon (Bapa), an environment rights group, leader Abdul Karim referred to some India media reports about contamination of rivers upstream of Sunamganj.  
An unusually early flash flood struck the haor belt late last month damaging half a million metric tonne of Boro crops in primary government estimation. 
The question of radioactive tests, however, came when three weeks after the flash flood authorities could not provide any scientific explanation on what caused deaths of 900 metric tons (MT) of fish, several thousand ducks, frogs and leeches. 
Addressing a press brief in Moulvibazar yesterday afternoon, the district's Fishery Officer AKM Shafiquzzaman said 25 MT of fish died due to Hakaluki Haor's water getting contaminated owing to submerged "rotten paddies".
But it was never explained how they drew the conclusion that uncut paddies gone under water caused the contamination.
Fisheries and Livestock Ministry Joint Secretary Syed Mehdi Hasan, who has been visiting the affected districts for the past five days, told The Daily Star that "fishermen told us that fish died due to rotten paddies."
Quoting district fishery office, Mehdi said in primary estimate 50MT of fish died in Sunamganj.
From his experience of flash flood-induced losses in the haors, Director General of the Department of Agricultural Extension (DAE) Md Manzurul Hannan, however, finds it hard to subscribe to the reason.
He insisted on more exhaustive tests for finding out the real reason behind the deaths of the aquatics.
Meanwhile, Syed Mehdi Hasan, the joint secretary, who was talking over phone from Sunamganj, acknowledged that the team from the atomic energy commission reached the district yesterday.
He said, "If there is any issue of uranium or any other radioactive materials' presence in the water, the atomic energy commission can determine that through tests."
Against what apparently very conservative estimates of fish lost in Sunamganj and Moulvibazar, the district fisheries officer of Netrakona, Ashraf Uddin, told The Daily Star that 800 MT of fish died in haors of the district.
He said that the loss estimation was made by taking reports from fishermen of different upazilas with Khaliajuri the worst hit.
Moniruzzaman Khandker, who teaches Botany at the University of Dhaka, is leading a five-member student-faculty team from his department to Tanguar Haor in Sunamganj. He yesterday told The Daily Star that by lab tests of the water they've collected as samples from the haor, they would be able to say on certain parameters like oxygen, acidity levels etc.
He emphasised of tests by the atomic energy commission to see whether uranium or any other radioactive materials had got anything to do with the recent loss of aquatics.
NETRAKONA FISH DEATHS
Fisheries department in Netrakona said, district's fish-rich haor belt in Khaliajuri, Mohanganj and Madan upazilas suffered a blow after the recent flash flood that left 800 MT of fish dead and some 16,000 fishermen in deep crisis.
Ashraf Uddin Ahammed, district fisheries officer, said they poured lime water and other medicines like, Oxy-A, Oxy-Flow and Oxy-Max in the contaminated water of haors, mainly in Khaliajuri and  Mohanganj, to help improve the quality of water that has gone acidic and lacks oxygen.
He, however, added that after taking these steps the oxygen level had increased and no fresh news of fish dying was reported yesterday.
On the miserable condition of thousands of poor fishermen, he said, they made a list of the affected fishermen and requested the higher authorities to bring them under government relief programmes at least for six months.
DUCKS DEATHS
Livestock department's Sylhet division Deputy Director Mohammad Giasuddin told The Daily Star yesterday that following lab test on duck samples collected from Sylhet's Fenchuganj, it was found out that the ducks died there of cholera. 
He said ducks feeding on death fish floating in Hakaluki haor triggered the cholera outbreak. The livestock official said tests on dead duck samples from Sunamganj had not been completed yet.
Our correspondents from Moulvibazar and Mymensingh - Mintu Deshwara and Md Aminul Islam contributed to this report.