Haor disaster: Each family to get 30kgs rice, Tk 500 monthly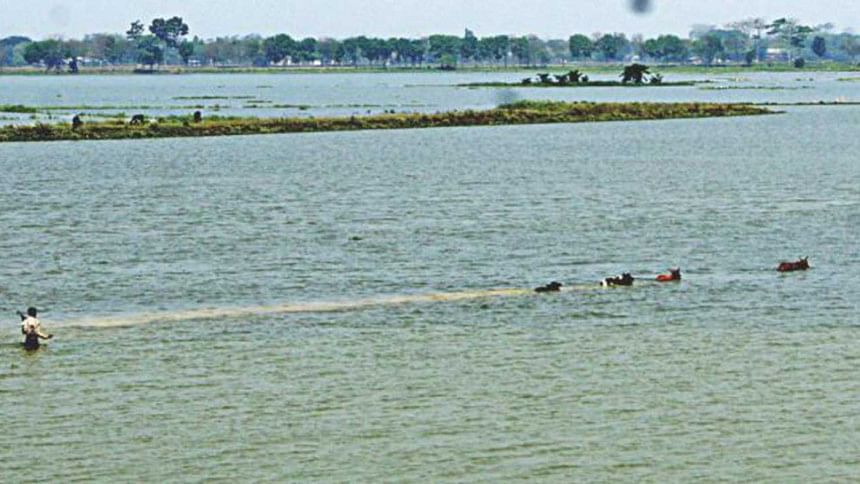 The government has taken a 100-day scheme to provide with relief among at least 3.30 lakh ultra-poor families in haor areas affected by the flash flood.
As part of the relief, each family will receive 30 kilogrammes of rice and Tk 500 per month, Disaster Management and Relief Minister Mofazzal Hossain Chowdhury Maya said after an inter-ministerial meeting with secretaries of all relevant ministries.
Meanwhile, the government will ensure rice and oil to be sold at the fair price of Tk 10 per kg and Tk 15 per litre respectively for middle income and upper middle class families that do not take relief.
Secretaries of Finance, Agriculture, Food, Environment, Water resources and Fisheries and Livestock ministries were present at the meeting at the Disaster Management Ministry.
At the meeting, a high-powered committee was formed with the joint secretaries of all the ministries as its members. The additional secretary of disaster management ministry will lead the body.
They will visit the disaster affected areas and will submit in 15 days a report with recommendations over the issue.
Although the government has taken up the 100-day scheme, the relief process will continue until the people in the haor area until the situation returns to normal, Maya said.
The minister urged the leaders of all political parties to stand beside the people of these areas.
Meanwhile, the agriculture secretary said there has been a loss of six lakh tonnes of rice in the six affected districts  including Sunamganj, Sylhet, Netrakona and Kishoreganj . But in the upland, a 0.35 percent increase in production is estimated, therefore the losses can be covered.
The water resources secretary said a scheme has been taken to see if the dams that were constructed around the 1960s can be increased by one meter keeping in mind the present reality of climate change.