HILSA now in haor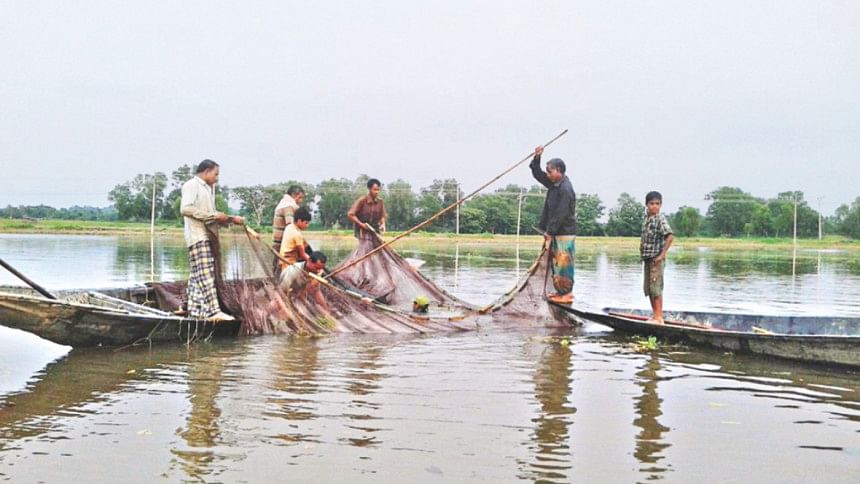 Though unusual, fishermen are catching hilsa in Hakaluki Haor, the largest wetland in the country.
Generally, hilsa is found in river and sea. But for the last few years, fishermen at times netted hilsa in early monsoon in Hakaluki that covers parts of Moulvibazar and Sylhet.
And this year, they are getting a good catch.
Yesterday morning, many fishermen were seen selling the fish in different areas around the haor. They were in a cheerful mood.
Talking to this correspondent, some of the fishermen said that on a few occasions they caught hilsa weighing up to 900 grams. But usually most of the catch was smaller in size and weighed between 200 and 500 grams. 
Mohammad Sultan Mahmud, fisheries officer in Kulaura upazila of Moulvibazar, said hilsa makes its way to Hakaluki through the Kushiyara river in Sylhet.
"If there is a flash flood in the haor areas, storm water flows down to the Meghna river through the Kushiyara river. And hilsa enters Hakaluki from the Meghna," he said.
Fishermen get hilsa in Hakaluki only if there is an early flash flood in the haor areas, according to Sultan.
Towhidur Rahman, officer of Center for Natural Resource Studies (CNRS), said fishermen have been netting hilsa in the haor areas since 2014. The volume of catch, however, has increased this year.