Hilsa catches go to waste
Lack of infrastructure the biggest barrier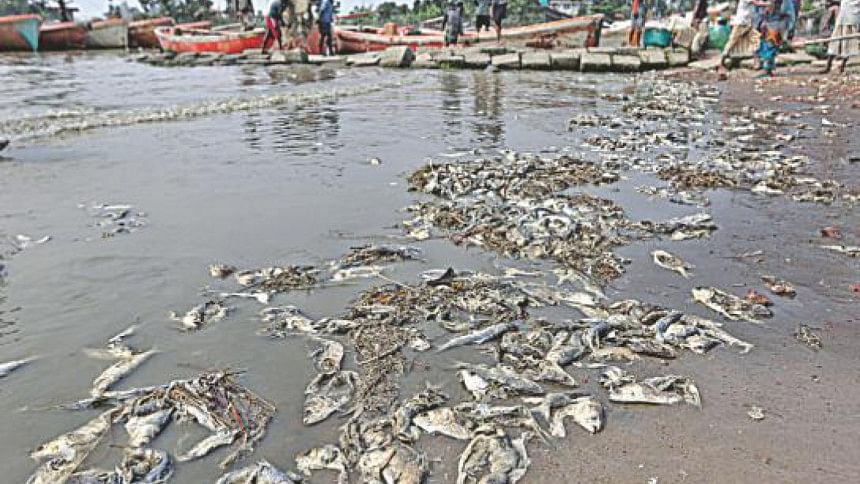 Hilsa occupies a unique position in the culinary of Bangladesh, a delicacy that families eagerly await. Due to its massive demand, it also costs quite a lot, and the average family can afford to consume Hilsa only once in a while. So, in a country where demand is so high, thus driving up prices, it is absolutely unbelievable that due to lack of cold storage facilities, fishermen in Sitakunda are having to dump their catch into the sea. Hundreds of dead and rotten fish float in the sea and adjacent canal, as fishermen who had hauled in huge catches, had no way to preserve the fish for the market.
Neither is this an isolated case: that our logistical facilities are poor is well-known. Adding to that, the local traders in Sitakunda had hiked prices for ice and salt when the demand for the preservatives increased. In this situation, cold storage facilities would have allowed the fishermen to keep the additional 2.5 tonnes of fish, adding to their income. This would also in turn be good for the consumers, as prices would go down due to increased supply.
It is interesting to note here that just this week Thailand has expressed eagerness to import hilsa from Bangladesh, which would add to diversify our export basket and open avenues for increased export earnings for Bangladesh. So, not only for local demand, but for export opportunities, cold-storage and other infrastructural facilities are absolutely essential. We urge that the government to take necessary steps for such logistical infrastructure, and encourage the private sector to do the same. Being able to facilitate these fishermen can only bring us good tidings: at home and from abroad.