World Migratory Bird Day: The alarming decline of birds at Hakaluki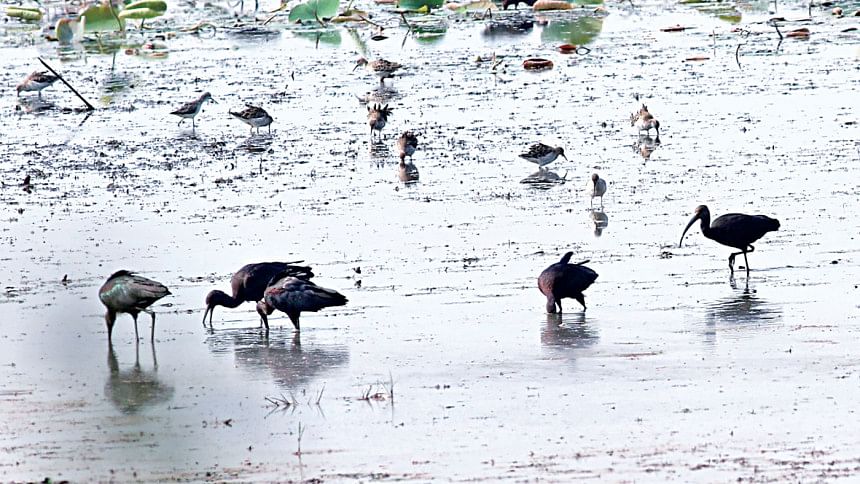 The number of migratory birds at Hakaluki Haor has been gradually decreasing over the last five years for a variety of reasons.
According to experts, the number has gone down due to the scarcity of sanctuaries near the haor area, water bodies being filled, poaching, shortage of food and threats to the biodiversity in the haor.
According to bird census data of the last five years, only 24,551 birds of 45 species were found in 2021, whereas 58,281 of 50 species were observed in 2017. This means over these years, the number of birds has decreased by half.
From 2010 to 2015, tracker rings were put on the haor's migratory birds to monitor their movement. Although other birds were found, none of the tracked birds could be found this year.
In 1999, the government declared Hakaluki haor as an ecologically critical area (ECA). Until 2018, some projects were underway to conserve Hakaluki's biodiversity and its birds. No other project has been taken after that.
Although previously there were more than six bird sanctuaries, after 2019 there are only two -- one in Kangli-Gobarkuri and the other near Kayarkona beel.
Regarding the declining number of birds, bird expert Enam Al Haque, founder of Bangladesh Bird Club, said, "During the census, a guest bird was spotted, floating dead in Nagua-Loribai beel of the haor. Usually every winter, miscreants kill them with poison traps. Generally, these birds don't flock at Hakaluki after seeing the dead birds."
Tourist Husna Begum Chowdhury, who came to visit Hakaluki from Dhaka's Lalbagh, said, "I was disappointed after going to Hakaluki this year. When I came here years ago, there were a lot of birds. But this time, I could hardly find any."
Meanwhile, a proposal has been sent from the environment ministry to Ramsar Secretariat in Switzerland -- to declare Hakaluki Haor, like Tanguar Haor, a Ramsar site included in the international agreement, said Environment Minister Md Shahab Uddin.
"We are yet to hear from Switzerland on the announcement. The matter is currently under process. Once the site is recognised, various development works will be undertaken to protect the biodiversity of Hakaluki Haor," Shahab Uddin told this correspondent.
The minister also mentioned that 27 ponds, three beels and a canal would be dug in six unions of Barlekha-Juri and Kulaura upazila in Moulvibazar, under the ministry's initiative.