Jahangirnagar University: 60 injured in BCL infighting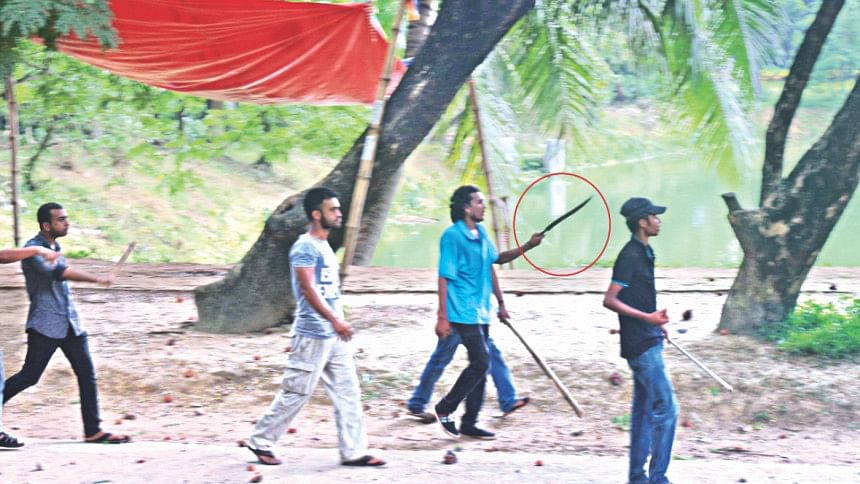 At least 60 people including two teachers, two journalists and a policeman were injured in a factional clash of Bangladesh Chhatra League on Jahangirnagar Uni-versity campus yesterday.
Mehedi Iqbal, assistant professor at the Department of Geography and Environ-ment, and Mohibur Rouf Shaibal, assistant proctor, were among the injured, said ASM Firoz-Ul-Hasan, acting proctor of the university.
A group of Bangabandhu Sheikh Mujibur Rahman Hall students beat up two stu-dents of Mowlana Bhashani Hall at a shop in Battola area of the campus around 2:00pm over a trifling matter. Later, Mowlana Bhashani Hall students made a counter attack, triggering the clash, he said.
Both the groups chased each other with sharp weapons and sticks, and hurled brick chips, according to police and medical sources.
Sound of gunshots were also heard during the two-hour long clash.
Police fired several rounds of tear shells to bring the situation under control, the acting proctor said.
The injured were taken to the university medical centre, Dr Rezwan of the medi-cal centre said adding that 40 of them were shifted to Enam Medical College Hos-pital.
Organising Secretary of JU BCL unit Tarek Hasan of Mowlana Bhashani Hall said, "Proctor failed to handle the situation. He ordered police to fire on us. He along with his body is trying to shelter a group of BCL on the campus. We want his res-ignation immediately.'
Affan Hossain Apon, joint secretary of JU BCL unit and a resident of Bangabandhu Hall, said, "JU Proctor will have to take all responsibilities for this incident. He de-layed to reach the spot after the clash began when our men were beaten up by our opponents."
Two journalists -- Jubaer Kamal of Daily Sangbad and Riju Molla of Bhorer Kagoj -- were also assaulted by some BCL activists for capturing photos.
Contacted, JU proctor Firoz said, "We have brought the situation under control. We deployed over hundred policemen on the campus to avoid any unwanted sit-uation.
"We will form a probe body to investigate the incident and will try to find out the culprits behind the clash," he added.
About the allegation of ordering police to open fire on students, he said, "We did not order police to fire on the students. We just took help from them to take con-trol over the situation."