Industrial waste killing Halda fish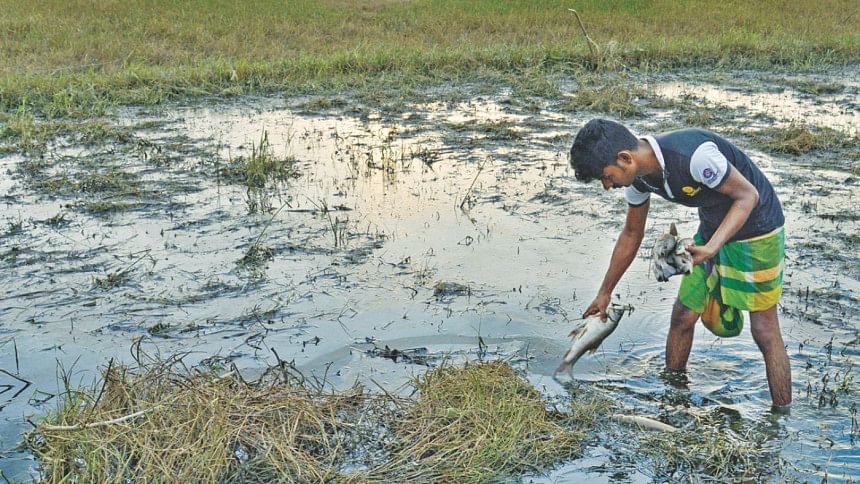 Hundreds of dead fish have been floating in the Halda river near the port city over the last few days following a suspected pollution by factories on its banks.
The river is known to be a carp fish habitat.
Researchers said the level of dissolved oxygen has fallen below the tolerance of aquatic species. 
"We cruised about 30km of the Halda river and found dead fish and other aquatic animals. We suspect that a large amount of industrial waste has been released into the river," Manzoorul Kibria, professor of zoology at Chittagong University, said.
His team have found a dead mrigal weighing over 15kg in the river.
It is unprecedented, he told The Daily Star.
Besides the Halda, fish are dying in water bodies in at least six unions of Hathazari upazila.
The Department of Environment has tested the water and found that the level of dissolved oxygen went below one milligram per litre on average. The level of dissolved oxygen should be at least five milligram per litre, officials said.
"Even ammonia has gone 100 times the optimum level," Manzoorul Kibria said.
Terming the situation horrific, he urged the authorities concerned to take steps to save the river already in peril due to manmade hazards.
The Halda is unique as it is possibly the only river in this region where eggs of carp fish are collected for breeding in hatcheries.
Local fishermen collected 22,680kg carp eggs this year from the river.  The hatched eggs have been supplied to fish farms across the country.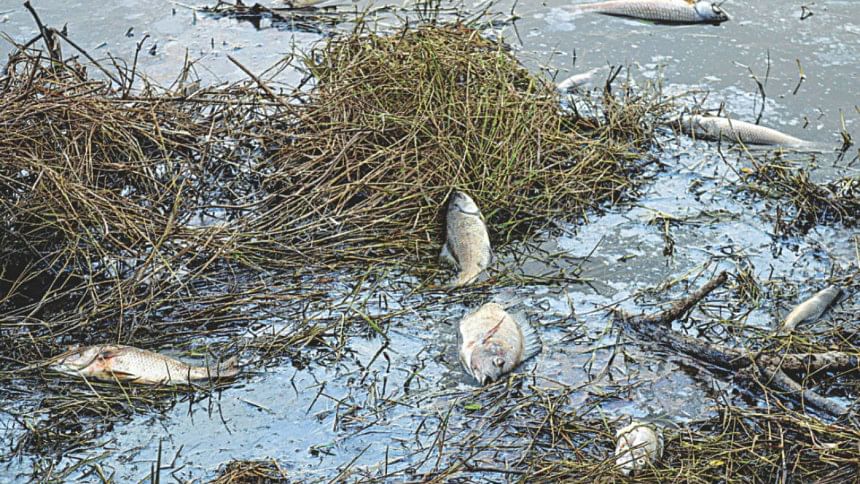 Locals said industrial wastes from different factories near Oxygen intersection and Kulgaon area of Chittagong city were dumped in the Karnaphuli river through the Brahmanshai canal. But the canal was blocked a few years ago. The industrial wastes have since been channelled to two wetlands next to the Halda river.
"The wetlands were flooded due to heavy rainfall and the Halda was polluted by the liquid waste," Manzoorul said.
Abu Bakkar Siddique, chairman of Sikarpur union, an affected area, said industrial pollution in the river was nothing short of a massacre of fish.
"Even water of ponds became unworthy of use after the floods," he told The Daily Star, "We urged the authorities concerned to stop the menace but it fell on deaf ear."
Locals are going to hold a human chain protesting pollution, he said.