Rajshahi faces a hotter future
Authorities must prevent unplanned urbanisation from killing our cities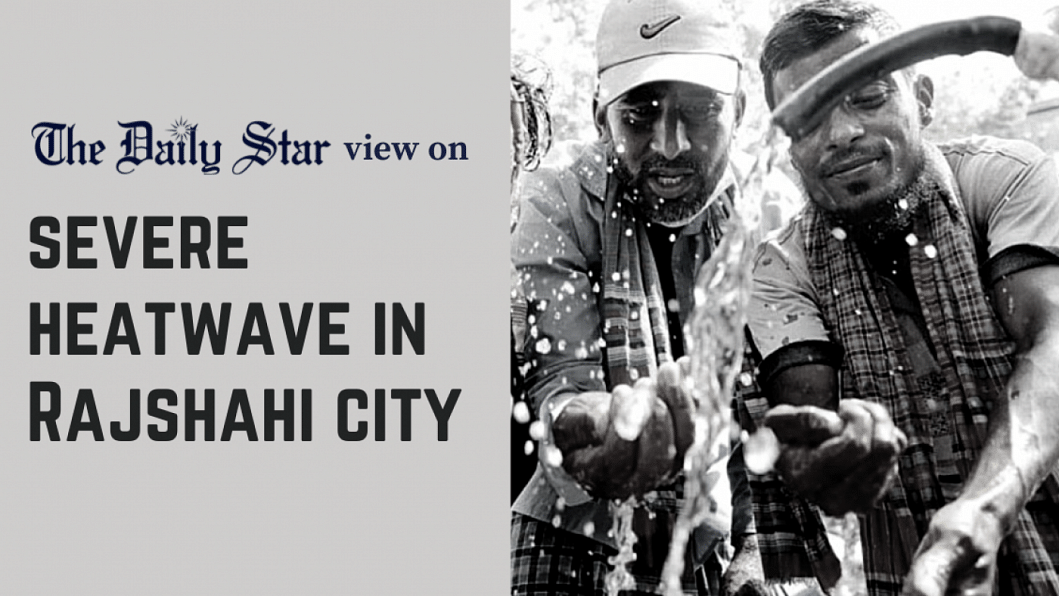 On April 17, Rajshahi city experienced one of its hottest days in over six years, with the mercury rising to a staggering 42.6 degrees Celsius. According to the meteorological department, this falls within the range categorised as a severe heatwave. The heat is so intense that health experts have warned residents to stay indoors for most of the daytime, up until 4:00pm, and even advised them to complete their Eid shopping after dark if needed. For the past two weeks, people have been suffering heavily as temperature has been hitting the 40-degree mark consistently.
A recent report by Banik Barta further illustrates the challenge for Rajshahi. A lecturer at the Rajshahi University of Engineering and Technology (RUET) said that irrespective of the temperature recorded, the "real feel" will be at least 10 degrees hotter. The decreasing amount of water vapour in the air of Rajshahi is responsible for this. Unfortunately, the situation has been more or less the same across the country. The question is, how can people function normally if the heat is this oppressive? What's equally concerning is that excessive heat can disproportionately affect the poor, and significantly lower productivity.
While we understand that urban spaces are one of the key drivers of development, it is the rapid and unplanned urbanisation that is now rendering many of these places almost unliveable. The decline in quality has been quite jarring. For example, between 1999 and 2019, ​​Rajshahi's urban areas increased by about 16 percent, while the city lost 19 percent of its tree cover and four percent of its waterbodies and wetlands. Another study revealed that in the last 30 years, the city lost 17 percent of its greenery, and correspondingly, temperature has risen by 12 degrees Celsius. If the current trend holds, the city may experience much higher temperatures in the future.
True, human-induced climate change is largely to blame for the intense heatwaves we are facing today. But our city and development authorities cannot be excused either. It is the poor and unplanned urbanisation under their supervision, without much thought given to protecting natural spaces, that has resulted in localised "heat islands". Not just Rajshahi, this is a phenomenon experienced in Dhaka, Chattogram and Khulna too. If this mad rush for development continues, our cities will soon become all but uninhabitable.
Natural and green spaces play a crucial role in temperature regulation. Research has found that temperature tends to be higher in urban areas and barren lands than in wetlands and green spaces. We, therefore, urge the authorities to take note of the drastic rise in temperature in our cities across the country. To check this trend, they must act immediately. They must protect what remains of our wetlands and green spaces, and bring encroachers and polluters to book. Our cities must be developed in a way that they can be climate-resilient.