Inaction kills Dumni canal
People's appeals, govt pledge, court order amount to nothing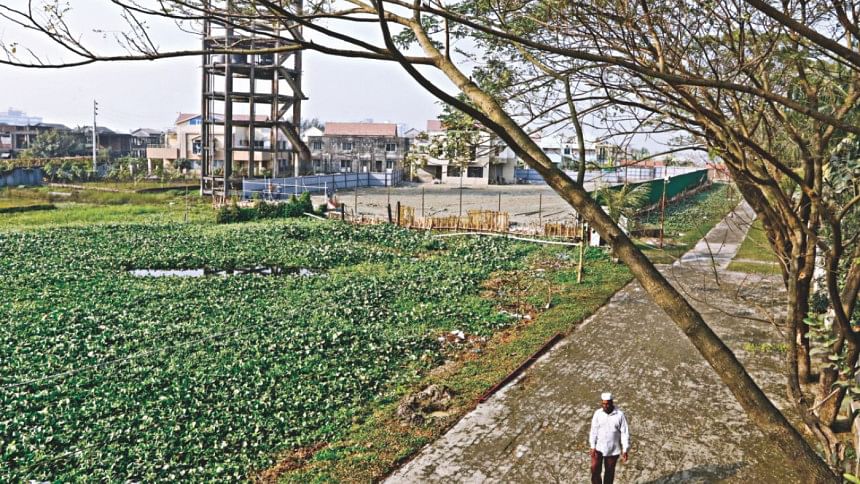 Years of public outcries, pledges of administration and the High Court's order had failed to save the natural canal Dumni Khal in the capital's outskirts.
With government custodians playing a dubious role, a stretch of the canal now stands completely filled with earth, making way for housing plots for land claimants to the south of Dumni Bridge just within a month since mid-December.
Affected local residents, who wrote to the environment ministry, police and environment department between 2010 and 2016 to save the canal, said it had nourished agriculture and ecology for decades.
Around 300 families of Pink City housing scheme have depended on the canal as the primary drainage facility over the last decade and will not be able to live without it, said a resident of the housing Rizwan Farouq.
The HC on February 13 directed the government to take immediate steps to stop filling up of the Dumni canal following a writ petition after a news report published in The Daily Star headlined "A canal on deathbed" on December 24 last year.
The map of Detail Area Plan (DAP) of the city shows that a 1.5-km stretch of the canal would connect water retention areas in the north-- Bhotter, Talna, Delna, Bhaturia and Palashia-- to others in Dumni, Boro Kathaldia and Boro Beraid in the south.
Masud Iqbal Md Shameem, director for Dhaka metropolitan area of the environment department, said that he would look into documents and see what could be done to save the canal.
The portion of Dumni canal being filled is not in the cadastral survey (CS) and revised survey (RS) records, he said, "But we can act to save the canal under the wetland conservation law."
The Dhaka district administration in September 2016 identified Dumni as a 5km stagnant canal filled up by Bashundhara housing authority in Kathaldia and recorded it in the state acquisition (SA) and RS Khatian.
The canal originates from the Balu River in the north of Dumni mouja and winds its way through Dumni, Kathaldia and Gajaria villages to converge with the same river in the south, according to district administration records.
In December 2017, the HC gave the government time until July this year to prepare an action plan with a list of land grabbers and demarcate the area to recover 50 canals in Dhaka city.
Environment department's Masud Iqbal in early January told this correspondent that his officials would talk to the local residents and real estate developers and then take a decision.
But on February 14, he said that it did not happen due to a change of the department's director general. Asked whether he as a director could hold the meeting, Masud said he could but would not do it until a new director general took over.
Likewise, Chairman of Rajdhani Unnyan Kartipakkha (Rajuk), Abdur Rahman, had earlier said he would assign a field enquiry to know how and why the canal is being filled up.
But in mid January he said he was not aware if any action had been taken.
The DAP, of which Rajuk is the custodian, earmarks Dumni as a 120-foot wide canal in light of a 2006 study by British Halcrow Group on flood management in the city's eastern fringes.
Ironically, it is Rajuk that has narrowed the canal to 10 feet with a box culvert underneath the 300-foot wide Purbachal highway.
The HC on February 13 also issued a rule asking respondents to explain in four weeks why they should not be directed to restore the canal and bring it back to its original state.
Secretaries to the ministries of environment and forests, and land, Dhaka North City Corporation mayor, Rajuk as well as its chairman, and officer-in-charge of Khilkhet Police Station are the respondents.
Locals said half a dozen land claimants -- three real estate developers, two individuals and a government organisation -- have so far either blocked and filled up parts of the canal or narrowed it down to one-twelfth of its original width since 2009.