Floods maroon thousands
Downpours, onrush of water from upstream cause people to suffer in Lalmonirhat, Nilphamari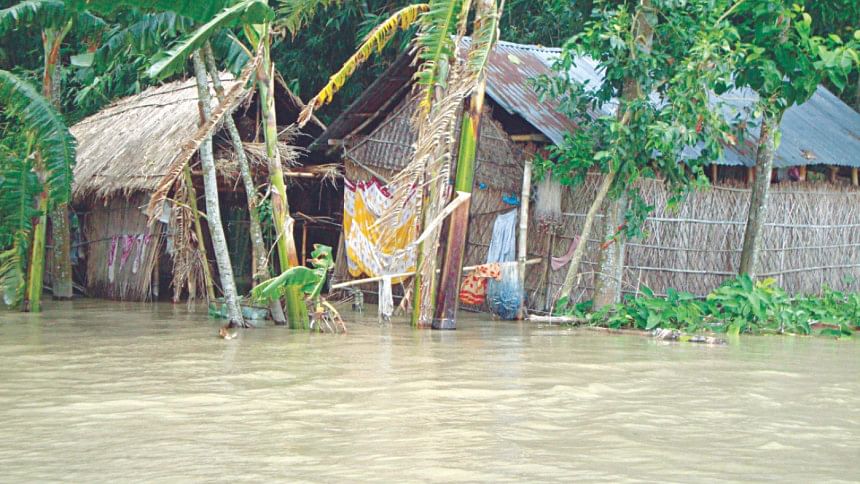 Around 60,000 people have been marooned in Lalmonirhat and Nilphamari as the two districts were hit by sudden flood caused by heavy downpour and the onrush of water from upstream for the last two days. 
The water level in the Teesta river was flowing 26 centimetres above its danger mark yesterday at the Teesta Barrage point in Doyani area in Hatibandha upazila. The Dharla river water was flowing 3cm below the danger mark at the Khawa ghat point in Lalmonirhat Sadar upazila.
The Teesta was swelling fast as India opened all the gates of Gojaldoba Barrage in upstream to release the "excess" water due to heavy rain there, said Bangladesh Water Development Board (WDB) sources, adding that all the 44 gates of the Teesta Barrage were kept open due to water pressure from its upstream in India. 
Meanwhile, erosion of the Teesta, Dharla and Jamuna has made 400 families homeless in Lalmonirhat and Gaibandha.
Erosion-affected people took shelter on different high grounds, including roadsides, with their valuables. Many migrated to other places, losing their homes and properties.
Our Lalmonirhat correspondent reports that around 50,000 people were stranded in 70 villages of its five upazilas which are in the char and low-lying areas of the Teesta and Dharla river basins.
As water level crossed the danger level, all the 44 gates of Teesta Barrage in Doyani area had been remaining open since yesterday morning. For this reason, many villages were flooded on the Teesta river basin in the downstream of the barrage, said an official of the WDB.
"Four bighas of vegetable land have gone under water. If the flood water doesn't recede today [yesterday], a huge amount of vegetables will be damaged," said Afsar Ali, a farmer in Sholmari village under Kaliganj upazila.
Mostafizur Rahman, executive engineer of the WDB in Dalia upazila, said if water continued to increase for the next 24 hours till today, more people in river basin areas would be affected.
The affected people of Dawabari village in Hatibandha upazila told this correspondent that erosion of the Teesta had taken a serious turn in the last one week, and the river was devouring homes and croplands one after another.
Our Nilphamari correspondent reports, around 10,000 people have been stuck in flood water in 14 villages in Teesta shoals and low-lying areas of Dimla and Jaldhaka upazilas as the river started swelling on Tuesday night.
With the rise of the Teesta water, water in other major rivers of the district has also increased, inundating jute, vegetable fields and Amon seedbeds on a large scale.
The affected people are facing a shortage of dry food and pure drinking water.
Our Gaibandha correspondent adds, Jamuna erosion made 150 families homeless, and it also gobbled up over 350 bighas of jute land in Shaghata upazila in the last five days.