Flood situation worsens in Manikganj
Affected people need food, pure water; river above danger line in Kurigram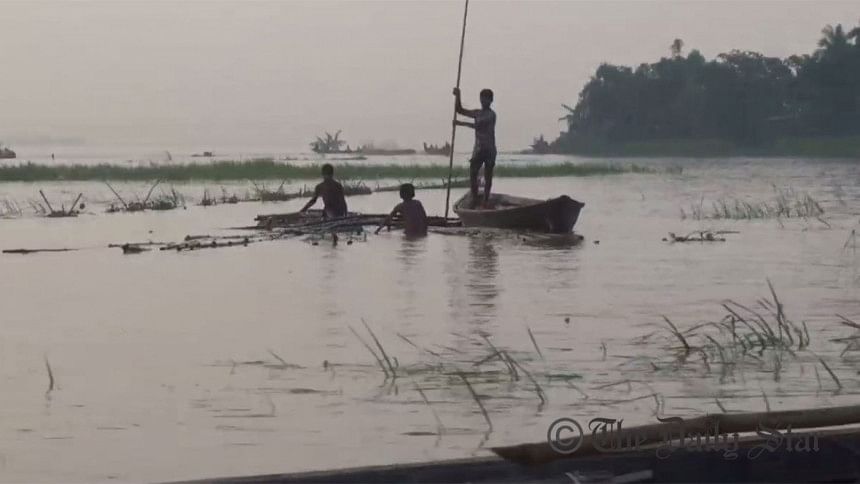 -- 50,000 families affected, 30 educational institutes closed in Manikganj
-- Jamuna, Dhaleshwari, Kaliganga, Ichamati swelling
-- Shortage of food, pure water in dists
-- Jamuna flowing 82cm above danger line
-- River water still above danger line in Kurigram
Flood situation has worsened in Manikganj while in Kurigram flood water has been flowing above the danger level.
Manikganj
Water level of the rivers Jamuna, Dhaleshwari, Kaliganga, Ichamati has increased today worsening the ongoing flood condition of Manikganj.
The Jamuna river is flowing 82cm above the danger line at Aricha point till 9:00am today after it increased 20 cm in the last 24 hours, Faruk Hossain, an official of the local Water Development Board told our Manikganj correspondent.
Around 50,000 families of 70 villages of 30 unions of the district are affected in the flood who are living in dire conditions for lack of food and pure water.
At least 30 educational institutes have been closed after water entered the institution buildings in Daulatpur, Shivalaya, Ghior, Harirampur and Shaturia upazila of the district, according to District Flood Control Room at Manikganj.
Due to river erosion 300 families have become homeless in the last few days, Md Babul Mia, acting district commissioner of Manikganj told our correspondent.
"We have distributed eight metric tonnes of rice so far to the people affected by erosion. We are preparing to distribute more rice and dry food," he added.
Kurigram
The overall flood situation in Kurigram has remained unchanged as Brahmaputra, Dharala, Dudkumar and other major rivers in the district have been flowing above the danger level for the last 11 days, UNB reports.
Local Water Development Board sources said water level of the Brahmaputra River at Chilmari point is flowing 90 cm above the danger level and 57 cm above the danger level at Nunkhaoa point while Dharala River is flowing 59cm above the danger level at the bridge point.
Roumari, Rajibpur and Chilmari upazila headquarters were flooded following collapse of a portion of the town protection embankment.
Sufferings of the flood-hit people intensified due to crisis of pure drinking water and adequate relief materials.
District Administration's control room sources said that 864 villages of 57 unions were flooded in the district, leaving eight lakh people marooned.
Crops of 20,000 hectares were destroyed while 500 km road, 40km embankment and 41 bridges and culverts were damaged in the district.
Over 9,734 tube wells went out of order and submerged by floodwater, the sources said.
The District Administration sources said over 64,000 people took shelter in 186 centres in the district.
Dr SM Aminul Islam, Kurigram Civil Surgeon, said that 85 medical teams have been working in the area. They are providing pure drinking water using five water treatment equipment.
The district administration is also distributing water purification tablets and saline among the flood-hit people, he added.
Md Hafizur Rahman, acting Deputy Commissioner, said the district administration has distributed 800 metric tonnes of rice, Tk 13.50 lakh, 3,000 packets dry food among the flood affected people.