Flood situation worsens in Kurigram, improves in Lalmonirhat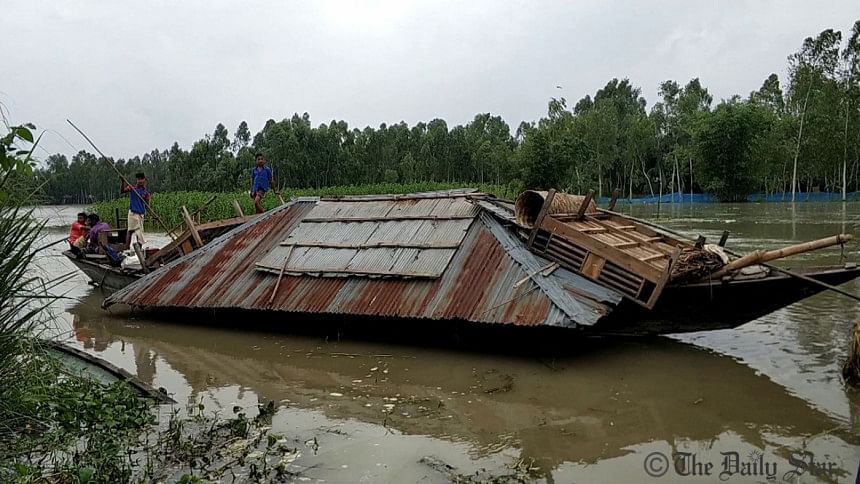 The flood situation in Lalmonirhat improved slightly after water levels of Teesta and Dharla Rivers both decreased while the situation has worsened in Kurigram further.
Lalmonirhat
Water level of Teesta has decreased and was flowing 20 centimetres below the danger mark at Teesta Barrage point in Dowani area of Hatibandha, reports our district correspondent in the morning.
Meanwhile, water level of Dharla also reduced 15cm but it continued to flow 25cm above the danger level at Shimulbari point today.
"We hope the flood situation in Teesta river basin will improve in the next 24-hour but it is uncertain whether the flood situation will improve in the Dharla river basin areas," said Bajle Karim, Sub-Divisional Engineer in Lalmonirhat Water Development Board.
"Sufferings for flood victims has not dissipated as most houses remain inundated in the affected areas," he said.
Kurigram
The flood situation in the nine upazilas of the district has worsened more due to heavy rainfall and upstream flow of floodwater.
Water level of the Brahmaputra, Dharla and Dudhkumar rivers in Kurigram was increasing while water of the Teesta river is decreasing, reports our Kurigram correspondent.
The Brahmaputra, Dharla and Dudhkumar rivers are flowing 121 cm above the danger level at Chilmari Ghat point in Chilmari upazila, 117 cm at Dharla Bridge point in Kurigram Sadar upazila and 93 cm at Noonkhawa point in Sadar upazila in the morning, said sources at local Water Development Board office.
The Teesta river is flowing 6 cm under its danger level at Kaunia Ghat point under Kaunia upazila (Rangpur), the sources said.
Over three lakh people of 72,480 families of nine upazilas have been marooned by floodwater while houses of 1,031 families have been damaged in the flood, the district relief and rehabilitation office sources said.