Flood in North, Northeast: Over 1 lakh marooned
Teesta, Dharla rivers flowing above danger levels; victims waiting for food, water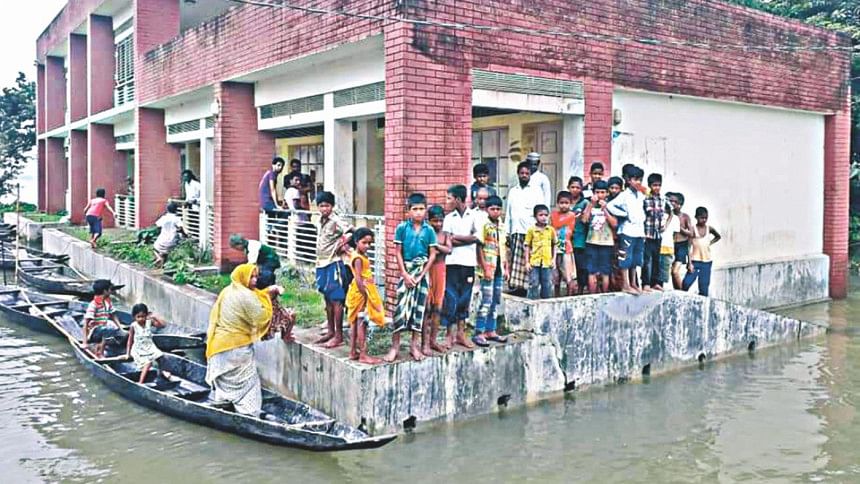 Floodwater has stranded over one lakh people in Lalmonirhat and Kurigram districts, following the inundation in Sylhet region.
Nearly one lakh people in 80 villages of 18 unions under five upazilas in Lalmonirhat are stranded, local Water Development Board (WDB) sources said.
On the other hand, at least 50,000 people in three upazilas of Kurigram are affected, according to the district relief and rehabilitation office.
WDB officials said the Teesta river was flowing 13 cm above the danger level at Hatibandha upazila's Teesta Barrage point and the Dharla was flowing 21 cm above the danger mark at Lalmonirhat sadar upazila's Kulaghat Ghat point yesterday.
Our Lalmonirhat correspondent reports the dyke in the left embankment of the Teesta at Mahishkhocha Gobordhan village of Aditmari upazila is on the brink of collapse with officials warning that the "situation would turn serious" if rainfall and onrush of water continued for the next 24 hours.
Mosaddeque Hossain Chowdhury, chairman of the local union parishad, said if the dyke collapsed, 10,000 families would be affected.
A number of affected people in the Teesta and Dharla river char areas, along with their livestock, have taken shelter on government roads, WDB dams and their relatives' houses in the mainland.
Shahjahan Ali,48, in Lalmonirhat sadar upazila's Bongram village, said his six-member family, along with their livestock have taken shelter on a government road. "We have been facing acute crisis of food and clean water," he said.
The Lalmonirhat sadar Upazila Nirbahi Officer UNO Jayashree Rani Roy told The Daily Star people were more interested in getting a river embankment than relief materials. 
Elsewhere in Kurigram, the Dharla was flowing 26 cm above danger level at Dharla Bridge point of the upazila yesterday.
The Brahmaputra, the Teesta and the Dudhkumar rivers were flowing at 35 cm at Chilmari Ghat point under Chilmari upazila, 83 cm at Kaunia Ghat point under Kaunia upazila and 104 cm at Noonkhawa point under Sadar upazila, below the danger levels, local WDB sources said.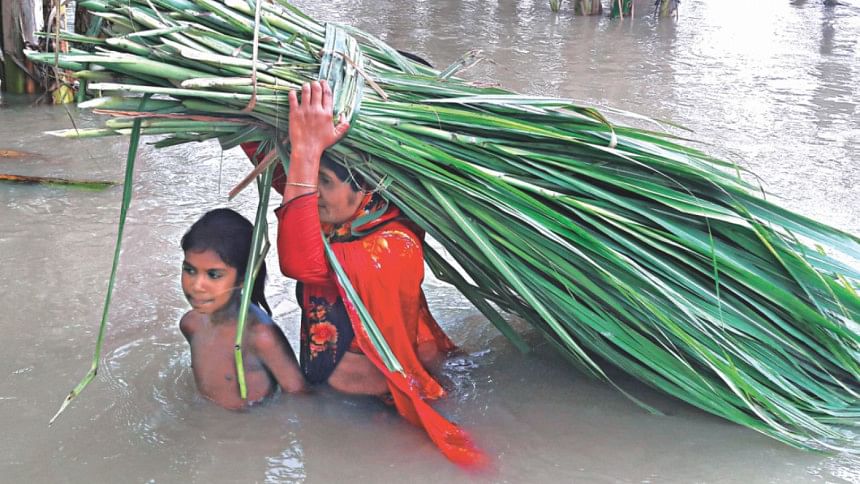 Sources in the district relief and rehabilitation office said people of nine unions under Phulbari, Ulipur and Sadar upazilas were marooned in the recent flood, with waters still rising.
In preparation, the local administration has converted 428 educational centres into flood shelters.
Kurigram Deputy Commissioner Sultana Pervin said they were "prepared" and that the "overall flood situation is in our control".
"We are preparing to distribute 2,000 packets of dry food among the flood victims."
In Sylhet, more low lying areas of Gowainghat, Companiganj, Fenchuganj and Kanaighat have been affected by flash floods.
The Flood Forecasting and Warning Centre (FFWC) said the Surma and the Kushiyara are flowing above danger level while the Old Surma and Someswari are overflowing.
Sunamganj's Cholti, Rakti, Patli, Jadukata rivers and Sylhet's Sari, Gowain and Piyain rivers were nearing danger level, our Sylhet correspondent reports.
The district's most affected upazilas are Sadar, Chhatak, Dowarabazar, Bishwambarpur and Tahirpur, where thousands of people remain stranded.
Road communications between Sunamganj and Tahirpur and to Chhatak snapped as many parts of the roads went underwater.
Amid heavy rainfall in different parts of the country and water from the upstream, the Flood Forecasting and Warning Centre (FFWC) on Thursday said water level of all major rivers was increasing and the country might experience a moderate flood in the middle of this month.
[Our Lalmonirhat, Kurigram and Sylhet correspondents contributed for the story]