Classes being affected in 50 Bhola schools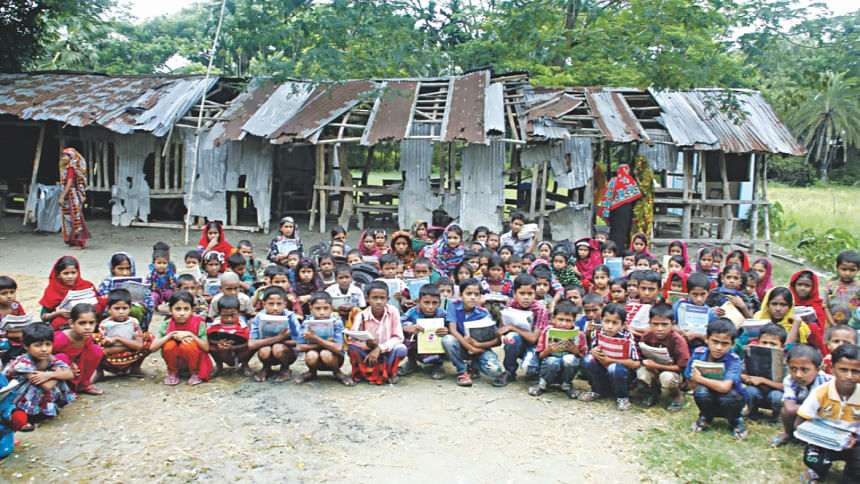 Education activities at Pubro Ahamedpur Primary School in Bhola's Charfession are being hampered since Cyclone Roanu struck last month, blowing away the tin-roof of the school building.
There are 280 students in the school.
Students said they get wet if it rains even a little as there is no roof over their heads. They bring umbrellas or polythene bags with them to save their books from rainwater. Rain has damaged books of some students.
"We will be very happy if we get a good classroom," said Mamun Hossain, a class-IV student. 
"We cannot have classes regularly due to the classroom shortage. Sometimes, we have to cancel classes due to rain," said Arju, a teacher of the school, adding that they had to teach the students under the open sky, but it was not possible to do that every day in the rainy season.
The school was established in 2000, but no concrete building was built there yet, said Ruhul Kuddus, headmaster of the school. It is very difficult to run the school without a concrete building, he said.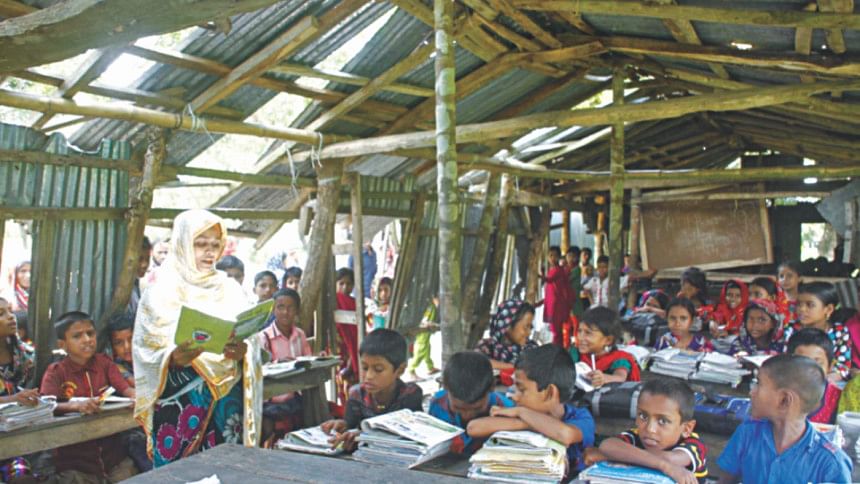 They contacted the higher authorities several times, but did not get any assurance from them about getting a proper school building, said the headmaster. 
Like Pubro Ahamedpur Primary School, many schools, colleges and madrasas in the district were damaged by the cyclone. They look to the government for support in repairs.
"About 50 primary schools have been affected in the district, and we have already sent the list to the higher authorities. But we have not got any response in this regard yet," said Mohammad Saiduzzaman, district primary education officer.
Around 105 high schools and madrasas and 20 colleges were also damaged by the cyclone, said Nalini Ranjon Roy, district education officer. 
Teachers of the affected educational institutions have urged the authorities concerned to repair those institutions as soon as possible.