Death of Youth in Bhola Firing
'Torture' triggered clash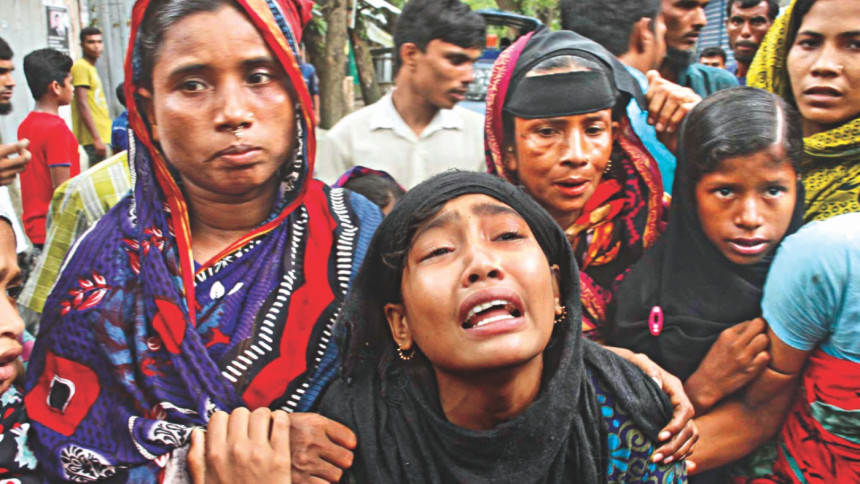 Influenced by a local Awami League activist, police had tortured a Chhatra Dal leader of Bhola that triggered Thursday night's clash between the villagers of Janatabazar and policemen in Sadar upazila, alleged locals.
A youth was killed and around 35 others were injured in the clash. The body of Noman Jamaddar, 30, son of Bellal Jamaddar of the village, was handed over to his family yesterday.
Police arrested Mizanur Rahman, president of Rajapur union unit Jatiyatabadi Chhatra Dal, in a case filed over polls violence. 
On March 31, elections to Rajapur union were held in which AL rebel chairman candidate Rezaul Haque defeated AL candidate Mizanur Rahman Khan.
A temporary police outpost was set up on Obaidul Haque Babul High School to deal with the post polls violence. But police later relocated it to the house of AL activist Nasir Sardar, who is a murder case accused.
Locals alleged that six to seven policemen in plainclothes along with Nasir, a supporter of defeated AL chairman candidate, went to Janatabazar on Thursday night, arrested and started beating Mizanur, who is a follower of AL rebel chairman candidate.
Locals said Nasir was angry at Mizanur for his role during the UP election.
Police took him to their outpost in Nasir's house and tortured him there again, alleged local Jaman Howladar.
As the news spread, villagers, including women, went to Nasir's house. A clash then took place between the villagers and policemen.
Villagers snatched Mizanur from police custody on Thursday night.
Saifuddin Shahin, additional superintendent of police in Bhola, said police opened fired on the villagers when they besieged the police outpost and tried to set fire to it.
Noman was killed in the firing, he said. 
He added that the relocation of the police outpost to Nasir's house was against the police rule as Nasir is facing a murder case.
Akram Hossain, additional deputy inspector general of police in Barisal range, said all the policemen of the police outpost had been closed to Bhola Police Lines.
"A committee has been formed to investigate the incident," he said.
Locals brought out a procession in the Janatabazar yesterday, demanding punishment to Nasir.
This correspondent could not contact Nasir as he is in police custody.