Tarique was behind it
Says Quader about attack on Bangladesh mission in London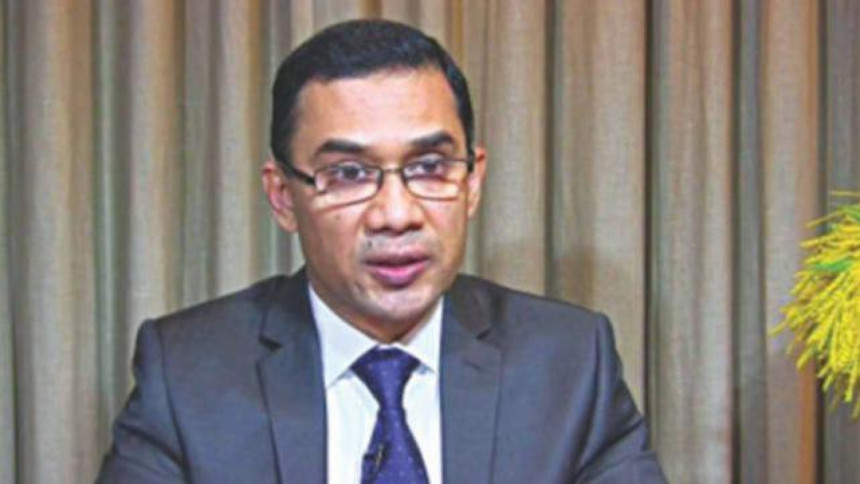 BNP Senior Vice-chairman Tarique Rahman, now in London, is the mastermind of Wednesday's attack on Bangladesh High Commission in London, alleged ruling Awami League General Secretary Obaidul Quader yesterday. 
The government will take legal measures against those involved in the attack and also take steps to bring them back, said Obaidul, also the road transport and bridges minister.
He was speaking at a function organised to rename Cox's Bazar-Teknaf highway to Saheed ATM Jafor Alam road.
The attack was carried out a day before a Dhaka court delivered the verdict against BNP Chairperson Khaleda Zia in the Zia Orphanage Trust graft case.
On Thursday, the court sentenced Khaleda to five years in jail in the case. It also gave jail sentences to Tarique and four others for 10 years and slapped a fine of Tk 2.10 crore on each.
Tarique, the second man in the BNP, now functions as the acting chairperson in Khaleda's absence.
The government has already informed Interpol about the attack, said Quader, adding that Tarique was conducting such activities while staying in London.
In reply to a query, he said no outsider was needed to split the BNP. Its own people were enough for that.
The 85km Cox's Bazar-Teknaf highway was renamed in commemoration of Saheed ATM Jafor Alam, who was killed by Pakistan occupation forces on the night of March 25, 1971.   
Jafor was killed at the then Iqbal Hall, now Zahurul Haque Hall, of Dhaka University. He is one of the very first martyrs of the Liberation War. His ancestral home was in Cox's Bazar's Ukhia upazila.
Jafor was the elder brother of incumbent Cabinet Secretary Shafiul Alam.
Three lawmakers, among others, were also present at yesterday's programme.
THE ATTACK
BNP activists "forcibly" entered the Bangladesh High Commission in London on Wednesday and assaulted its employees and vandalised some valuables.
Following a demonstration by the UK chapter of BNP and its front organisations, a group of demonstrators entered the high commission in the name of submitting a memorandum, according to a press release issued by the high commission.
The release, which was given to journalists during a press conference by Foreign Minister AH Mahmood Ali at the ministry on Thursday, condemned the attack and said the incident tarnished the country's image.
"Bangladesh High Commission in London represents Bangladesh in the UK. So, damaging the high commission's assets is the same as damaging the state assets, and the attack on the high commission is tantamount to an attack on Bangladesh," said the statement.
Responding to a query, Mahmood said the British police detained one of the attackers from the spot.