Big leap at BSMMU
Hospital conducts first bone marrow transplant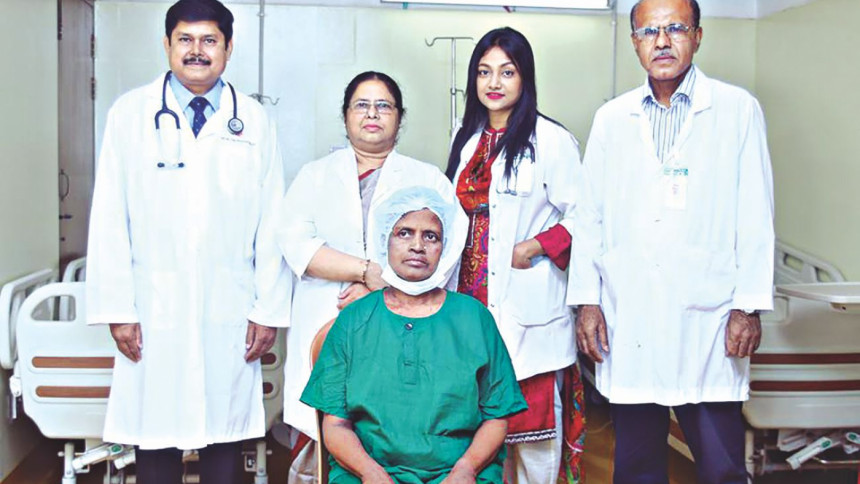 Bangabandhu Sheikh Mujib Medical University (BSMMU) successfully conducted its first bone marrow transplant, adding a new dimension to the treatment for blood cancer in the country.
Ifte Ara, 48, of Chilmari in Kurigram, who had been suffering for over a year from multiple myeloma, a kind of cancer that forms in a type of white blood cell called plasma cell, underwent the bone marrow transplant (BMT) at the haematology department of BSMMU on April 1.
BMT is a procedure by which damaged bone marrow -- the soft and spongy tissue inside the bones -- is replaced with healthy bone marrow stem cells.
After the procedure, she was released from the hospital on April 18 and will now require some follow-ups, doctors at the medical university said.
"I am now doing fine. I don't have the pain I had been suffering from for over a year," Ifte Ara, a mother of four, told The Daily Star by phone yesterday.
"This appears to be a new life for me. I express my thanks to all the doctors and sisters, who worked day and night," she said.
Dr Masuda Begum, chairperson of the haematology department of BSMMU, said, "This is a new feat in the history of the medical university." 
She said the authorities of BSMMU have not charged Ifte Ara any money because she was the first to undergo the transplant there. She, however, had to buy medicines.
"Given that the BSMMU is a public medical university, the cost for a bone marrow transplant here would be Tk 3 lakh to 5 lakh," she said, adding that this cost would be around Tk 20 lakh in India and even more in other countries like Singapore or Thailand.
The team of the doctors, who conducted the BMT, included Dr Salahuddin Shah, Dr Rafiquzzaman and Dr Mujahida Rahman of the haematology department, said Dr Masuda.
"A new floor has already been allocated and fund sanctioned. We need to get the money in hand to expand our facilities fast so we can conduct BMT on more patients," she said.
Bangladesh saw the establishment of the country's first BMT facility at Dhaka Medical College Hospital (DMCH) in 2013. So far doctors at the DMCH have conducted BMT on 35 patients.
Until now, however, both the DMCH and BSMMU have facilities for autologous BMT, which uses healthy stem cells from other parts of a patient's body in the transplant.
However, the procedure is not suitable for more critical patients suffering from leukaemia, thalassemia and aplastic anemia. They require allogeneic procedure which uses stem cells from unrelated donors.
Doctors said bone marrow transplant in Bangladesh was very important because a lot of people would go abroad for the transplant which proved to be very costly. However, there were many others who died being unable to afford the treatment.
According to Bangladesh Thalassemia Foundation, seven percent Bangladeshis are thalassemia carriers. Every year, 7,000 new babies are born with the condition, which is a very common blood disorder caused by a genetic mutation that results in defective haemoglobin production.
Dr Salahuddin Shah, associate professor of haematology department at the BSMMU, said he received training on BMT at the Princess Alexandria Hospital and Royal Brisbane Hospital in Australia in 2013 and later at the All India Institute of Medical Sciences in India.
"It was a dream for long to begin BMT at the BSMMU, and that has now come true. We can truly serve people if necessary fund is allocated and manpower trained," he told The Daily Star.