Gopalganj Univ: Protest goes on for VC's removal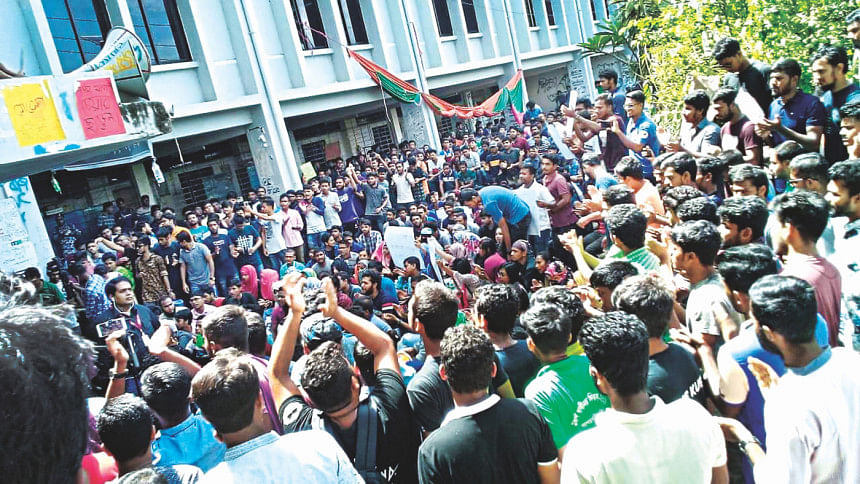 Students of Bangabandhu Sheikh Mujibur Rahman Science and Technology University (BSMRSTU) continued their protest for the fifth consecutive day yesterday demanding resignation of the vice chancellor for his alleged involvement in corruption and irregularities.
A number of teachers at the university also joined the protest, expressing solidarity with students. 
Power and water connections to the dormitories were not resumed till filing of this report last evening.
Earlier on Saturday morning, the authorities suddenly declared a 10-day vacation ahead of Durga Puja and asked the students to vacate dormitories by 10:00am.  
As the students refused to give in, the authorities severed power and water connections to the dorms after 10:00am.
The authorities also shut the dining facilities at the dorms in an effort to quell the movement, causing immense sufferings to the students staying on the campus. 
According to university's academic calendar, the vacation was scheduled to be started on October 4.
Some students have been observing an indefinite hunger strike since Thursday to press home the same demand
The protesters said they would continue their protests until VC Prof Khondoker Nasiruddin steps down.
The Daily Star yesterday tried to contact Prof Nasiruddin on phone several times, but he didn't respond.
PROBE BODY FORMED OVER ATTACKS
The university authorities yesterday formed a three-member committee led by Prof Md Abdur Rahman, dean of the university's science faculty, to investigate the attacks on students on Saturday.