BSMRSTU, Gopalganj: Nothing there, yet it's a dept
No teachers, classrooms, course outline for botany students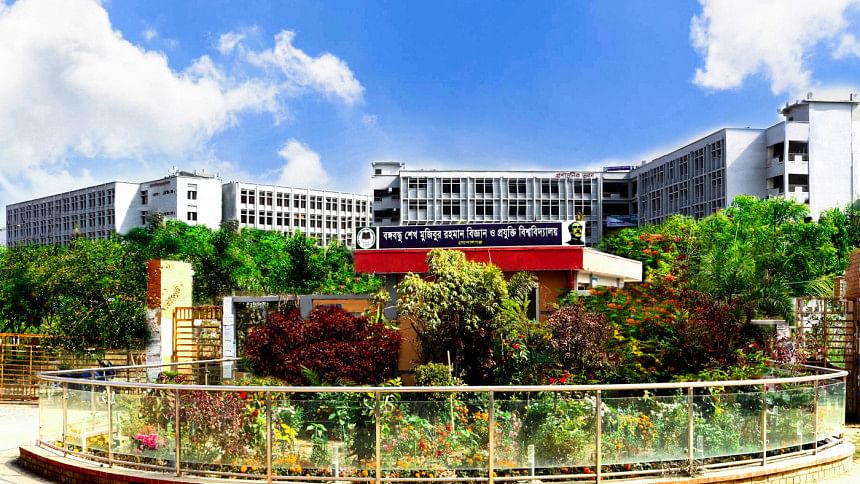 Almost every graduate has some sweet memories of being a freshman at university. But if anyone asks the students of botany at Bangabandhu Sheikh Mujibur Rahman Science and Technology University, they will probably share something that reflects how irresponsible the university authority was.
No teachers, proper classrooms or course outline -- yet the university this year launched the department with 70 students.
"January 1 was our orientation day. January 2 was our first class. A teacher from biotechnology and genetic engineering taught us botany at her department," said a botany student.
On January 3, Mostafa Kamal Pasa, a retired botany professor of Chittagong University, joined the university on a six-month contract and started giving lessons at the department.
"I then prepared the course curriculum for the botany department," he told this correspondent, adding that five courses that were outlined for the first semester, including microbiology and virology; mycology and lichenology; phycology; bryology; and pteridology, and a non-major course titled "Bangabandhu Science and Technology".
The non-major course was developed to teach students about the life of Bangabandhu Sheikh Mujibur Rahman, said Prof Mostafa who was made chairman of the department.
Prof Mostafa taught two courses while teachers from other departments were hired for the other three.
"For the first one and a half months, our classes were held at the BGE [biotechnology and genetic engineering] department. By this time, many of us had become frustrated and left," said a botany student, adding that the number of students dropped to 45.
The botany department was later given a classroom at a tin-built structure next to the library. Visiting it last week, this correspondent found that the road to the building was waterlogged and long grass surrounded it.
The 350sqft room is divided into two. 
"One part is used as the department head's office and the other is our classroom," said a student. 
The students sharing the lab of food and agro-processing engineering (FAPE) department, which was also launched this year, on the third floor of the new academic building.
Talking to the Daily Star, a student of the FAPE department said, "Due to the partition [to divide the lab], the laboratory room becomes small. Students cram in to attend classes there."
The university also opened an architecture department this year. 
The authorities ran the first semester of these three new departments – botany, architecture and FAPE -- hiring teachers from other departments and universities. The chairmen of these departments have backgrounds in agriculture, electrical, and electric engineering departments. 
"I enrolled here with a dream of a good future. Now it's a nightmare," said a student of architecture department, narrating his experience at the university. 
"What was the necessity of opening the departments in the first place? They launched these departments whimsically," said a teacher of the university, preferring to be unnamed.
"They didn't even think that such abrupt launch could ruin our students' future," he added.
Frustrated, a parent of a student of FAPE said, "I paid the same admission and other fees as for students of other departments. Why would my daughter be deprived?"
"Had I known it before, I wouldn't have sent my daughter to this university," he said.
Contacted, Prof MA Sattar, dean of Life Science Faculty and member of BSMRSTU Academic Council, said, "We've no involvement in this. 
"The vice-chancellor did this. You better talk to him."
The university which was relaunched in 2011 came under the spotlight following students' demonstration demanding resignation of vice-chancellor Prof Khondoker Md Nasiruddin amid allegations of corruption and nepotism in recruitment.
Prof Nasiruddin finally resigned from the post on Monday, a day after an UGC probe found evidence of irregularities against him.
Prof Nasiruddin could not be reached for comments.