Suspended female journo files GD seeking security
Human chain at KU demanding withdrawal of suspension order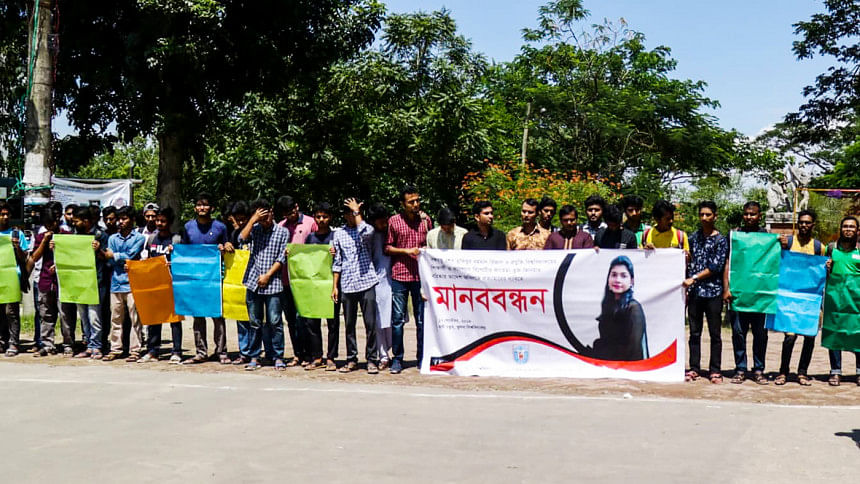 The female journalist, who was suspended from the Bangabandhu Sheikh Mujibur Rahman Science and Technology in Gopalganj, today filed a general diary (GD) with local police seeking the security of her life.
Fatema Tuz Zinia, the university correspondent for The Daily Sun and also a second-year student, was suspended on September 10 for posting status and comments on social media which the authorities claimed has tarnished the image of the university.
Monirul Islam, officer-in-charge of Gopalganj Sadar Police Station, said citing threat from unidentified criminals, Zinia lodged a GD with the police station seeking security for her life.
A sub-inspector has been assigned to investigate the matter, he added.
Meanwhile, the students of Mass Communication and Journalism of Khulna University (KU) today formed a human chain on the university campus demanding the immediate withdrawal of the suspension order against Zinia, a second-year student of Law department.
Around 100 teachers and students of the department took part in the human chain.
 The decision of suspending Zinia sparked countrywide protest and drew huge criticism on social media.
Yesterday, the students of different educational institutions formed human chain at Dhaka University, demanding the removal of BSMRSTU vice-chancellor for "running the university in an autocratic manner".
At the human chain, formed under the banner of "Muktijuddho Mancha", speakers said the VC is accused of slanderous activities and irregularities in the university's several recruitment processes.