Bangabandhu tech univ students continue protest despite vacation
Body formed to probe attack on students; halls' power, water lines still snapped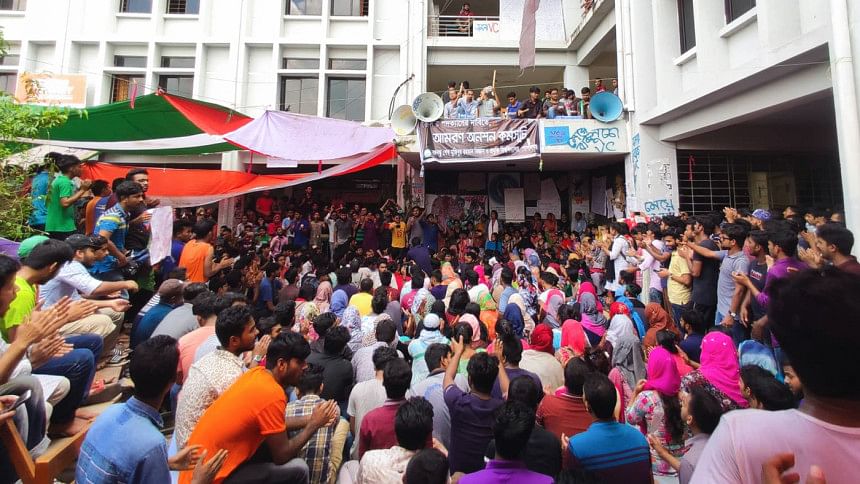 The power and water connections to the dormitories of Gopalganj's Bangabandhu Sheikh Mujibur Rahman Science and Technology University (BSMRSTU) are still snapped as the students continued their protest on the campus for the fifth consecutive day today.
A good number of teachers also joined them, extending their support to the students demanding resignation of the vice chancellor for his alleged involvement in corruption and irregularities.
Besides, some students are on an indefinite hunger strike in front of the administrative building since Thursday to press home their one-point demand.
Yesterday, the authorities declared a 10-day vacation ahead of Durga Puja and asked the students to vacate dormitories by 10:00am. But the students refused to leave the halls and vowed to continue the protest. 
Then, the university authorities severed power and water connections to the dormitories and shut the dining halls to quell their movement triggering immense sufferings to its residents, Shums Jabin, one of the protesters said.
He said they would continue their protests until the VC steps down from his post. 
The Daily Star tried to contact VC Prof Khondoker Nasiruddin several times today for comments, but there was no response.
Probe body formed
The university authorities have formed a three-member committee led by Science faculty Dean Prof Md Abdur Rahman to probe the attacks on students.
The two other members of the committee are -- Assistant Prof Arefin Shamsul and Law Faculty Dean Prof Kuddus Miah.
Yesterday, at least 20 students including three journalists were injured in an attack by the "hired goons of VC Prof Khondoker Nasiruddin" when they were on their way to campus to join the protest programme.
An Assistant Proctor resigned from his post yesterday protesting the attack on the students.
Condemnation poured
Condemning the attacks on protesting students and demanding resignation of VC Prof Khondoker Nasiruddin, former and incumbent students demonstrated on campuses including Dhaka University and demanded resignation of the VC.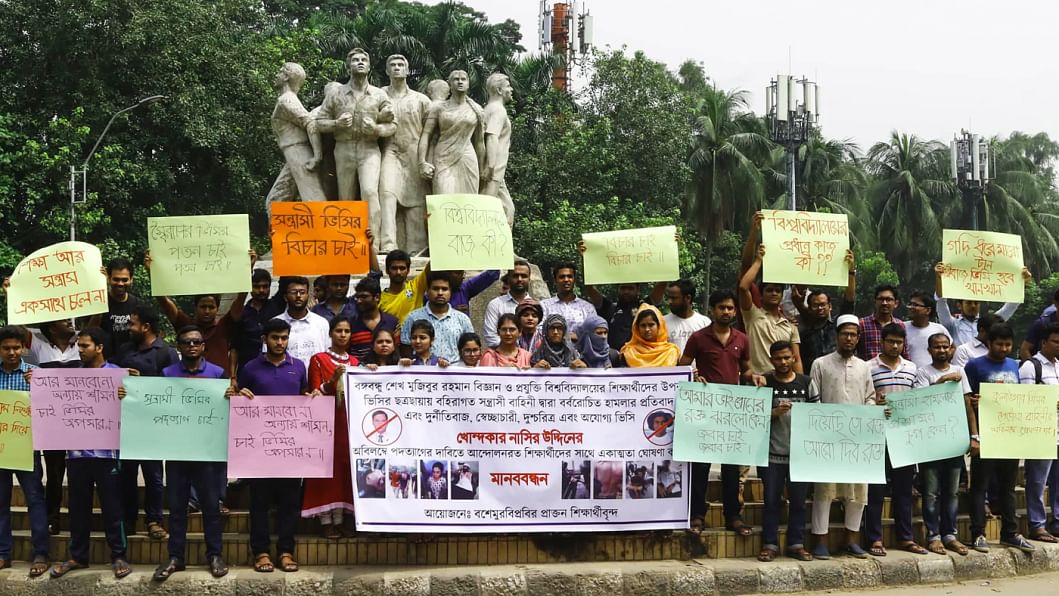 In DU, around 100 former students of BSMRSTU formed a human chain around 12noon at the base of Raju Sculpture while in Chittagong University, students under the banner of 'General Students of CU' also formed a human chain in front of the university's Shaheed Minar premises.
Students of Jagannath University and Barishal University also waged protest to press home the same demand.
Reason of protest
Since September 18, several thousand students have been demonstrating for the VC's removal, bringing allegations against him of sexual harassment, nepotism in recruiting teachers and other employees, and corruption in development projects, including the construction of the Shaheed Minar and Bangabandhu's mural on the campus.  
The demonstrators said the university authorities suspended students and served show-cause notice to those teachers whose speeches or statements go against them.
Fatema Tuz Zinia, a second-year student of law department and a campus reporter of The Daily Sun, was a victim of suspension for a Facebook post.
Amid countrywide protests, university authorities withdrew the suspension order on September 18.