Sleep in a replica of Van Gogh's bedroom for $10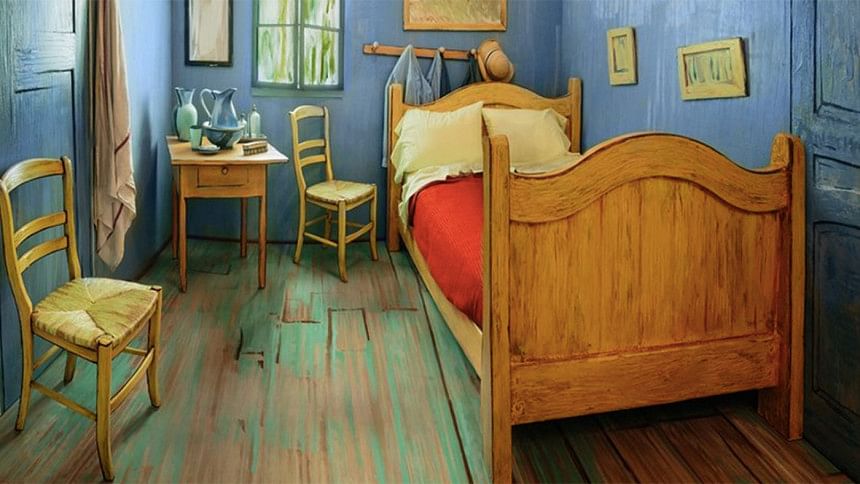 Have you ever stared at a painting and wished you could slip inside? You may have a chance. The Art Institute of Chicago has recreated Vincent Van Gogh's bedroom in an apartment and is renting it out for $10 a night.
"This is so perfect I'm literally crying," art student Genevieve Marie Gualtiere wrote on the museum's Facebook page.
"Staying here would be my dream! I need it."
Art lovers have already snapped up all available dates in February, but will have more chances to book as the museum releases more dates on Airbnb.
"We're hoping it will inspire people to think in new ways about the painting," said Amanda Hicks, a spokeswoman for the Art Institute of Chicago.
"Our version of Van Gogh's bedroom is so popular and well-loved and well-known that this gives you a chance to think about it and walk in it and live in and just experience with fresh eyes this iconic work."
A group of local artists helped to recreate in painstaking detail the simple wooden furniture and rich colors of Van Gogh's "The Bedroom," one of his most recognizable works.
It is a remarkable experience, Hicks said, to walk through a modern Chicago apartment, open a door and be "transported across the threshold into Van Gogh's Bedroom."
Reservations will be restricted to just a single night and will include two tickets to the museum and a special exhibit which brings together all three versions of Van Gogh's "The Bedroom."
The Art Institute owns one and the others are on loan from the Musée d'Orsay in Paris and the Van Gogh Museum in Amsterdam.
The exhibit also includes a recreation of "The Bedroom" and as visitors move through the gallery they will walk over a blueprint of Van Gogh's home in Arles, France.
It opens on Sunday and runs through May 10.
Those wishing to rent the room should watch the museum's Facebook page for an announcement of when more dates will become available. There are no plans to make it available after the exhibit closes.
"We're not planning on getting into the recreation of bedrooms business," Hicks told AFP.