Learning through play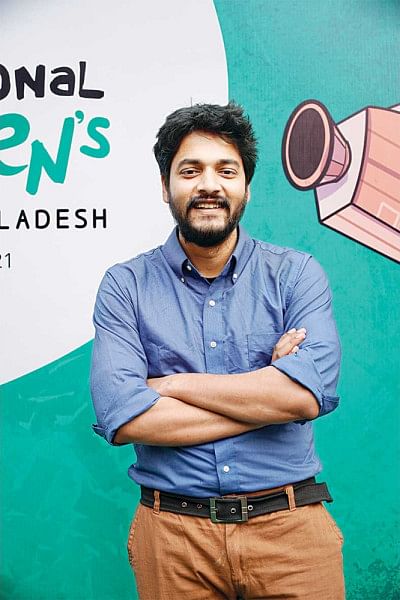 Amir Hamza is the founder of Here We Play, a platform that promotes play as earnestly as schooling in the process and progression of teaching students at different levels of education. He also founded the start-up Makeateam,which facilitates activities, through interactive learning sessions and games, for corporations,students, and professionals from different sectors.
Amir is one of the entrepreneurs in the Dhaka Hub Global Shapers 2021 Cohort. The Global Shapers are a community of young leaders and changemakers aged between 20 and 30, curated by the World Economic Forum. The Dhaka Hub was founded in 2014.
In an interview with Star Youth, The Daily Star, Amir talks extensively about the impact his initiatives have been deriving.
How did you come up with the ideas for Here We Play and Makeateam?
While working for Teach For Bangladesh, I noticed that most students were not enjoying the process of learning. I realised that my best childhood memories were made during playtime with my friends. After putting much thought into encouraging students to enjoy learning, I came up with the idea of Here We Play over two years ago.
With Makeateam, we facilitate team-building activities through interactive learning sessions and games. Anyone can join any of the sessions offered for personal and professional growth.
What were some of your biggest challenges along the way?
Having to convince teachers and principals about the importance of play alongside teaching was a challenge. Here We Play makes play complementary to education, and not just a brief supplement. Thankfully, we were invited to institutions to make play more accessible for students, instead of us having to approach them.
That being said, many of our plans need funding in order to take off.
What are some notable projects of your platforms?
We have been working with teachers to enhance the pedagogy of play through classroom materials. I designed games for implementation in virtual mediums such as Zoom and Google Meet, for students. They have been learning maths and art through gamified training knowledge. 
Recently, we launched a plant-based ID card making system to replace voluntary plastic cards people have to use during temporary conferences and other such programmes. The idea is to make the ID cards with paper and fill the inside of them with seeds so once they are thrown into landfills, they will help grow plants.
What are your future plans in this field?
I would like to ask for help from the government to implement virtual medium play and game-based learning in classes — this method could be introduced in the official curriculum. The data of the impacts can be sent to government bodies through Dhaka Hub. I hope to create games for Bangladesh, Nepal and India.
The author is a freelance journalist. Email: [email protected]