INTERVIEW
Building the path to a data-driven Bangladesh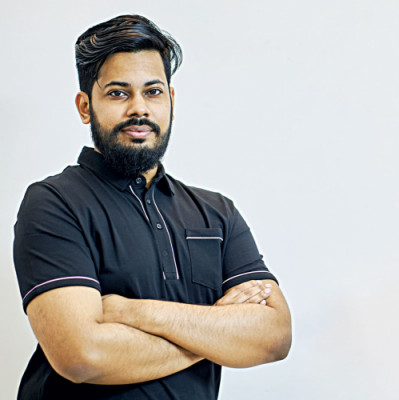 Mir Sakib, CEO of Cramstack, was inducted in the 2021 Forbes 30 under 30 Asia list, under the category of Enterprise Technology. Cramstack is a startup that uses artificial intelligence to automate the extraction of information from unstructured data to provide insights for businesses. Mir Sakib graduated from North South University (NSU), and is pursuing his master's from Higher School of Economics, Russia. Star Youth, The Daily Star, caught up with him to learn about his aspirations, and more.
What was your initial idea behind Cramstack?
When I graduated in 2015, I joined Incepta Pharmaceuticals as a management trainee, and life was monotonous. So, I took a day off, and joined a hackathon by Asia Foundation, with my thesis partners at NSU. We won the hackathon, and a few angel investors were present at the event. Some of them were interested to invest in my project. They gave me the incentive to start working on Cramstack. Soon afterwards, I left Incepta Pharmaceuticals, and joined a software company to understand how things work in my relevant study field. I left the job after two months, and started Cramstack in April 2016 with my childhood friend, Hasib Mahmud.
What makes Cramstack stand out?
The idea behind Cramstack is to build a search platform that allows users to search enterprise data sources as easily as a Google search. It also offers tools to extract and process data from portable document format (PDF) files and images.
 Hasib Mahmud and I came up with the idea to work with natural language query. We developed a natural language enterprise database while participating in Grameenphone Accelerator in 2016.
Currently, we have clients in the Ministry of Power in Bangladesh, a number of renowned banks and RMG exporters, as well as international firms such as Boston Consulting Group.
How is Cramstack tackling challenges during the pandemic?
Owing to the pandemic, we had to face obstacles, like most other businesses. Our bills got delayed, but we did not lay off employees or cut off salaries. Even if we went broke, we wanted to make sure our employees had full support from our side. We also provided government data from healthcare workers and immigration officials to help track and curb the spread of the coronavirus. We raised over $1 million from Rockstart (Netherlands), Grameenphone (unit of Telenor) and angel investors.
The author is a freelance journalist. Email: labibakabir99@gmail.com.