Paving the way for women in STEM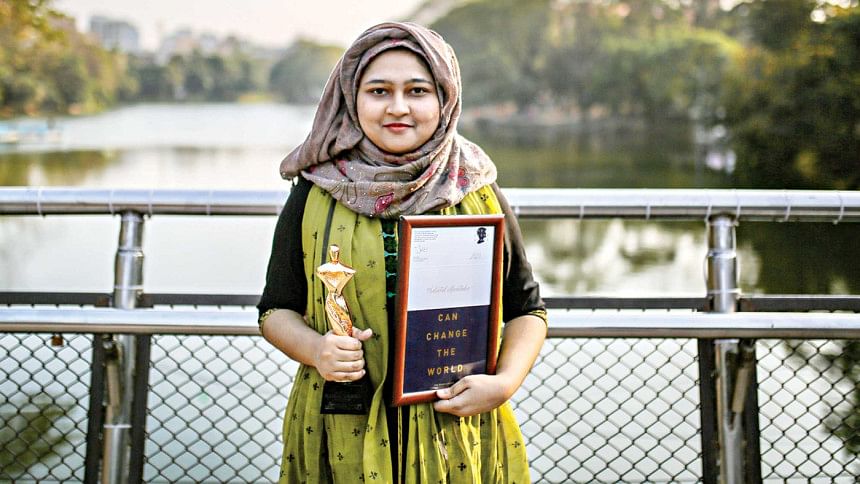 Sidratul Moontaha is one of the recipients of the 2021 Diana Award. At the age of 22, she became the youngest Chapter Ambassador for Technovation. Founded in the United States, it is the largest and longest-running non-profit organisation for global technology education. It offers interactive learning programmes for young women.
"I learned about Technovation when I was a community manager at an NGO. Being a strong advocate for women and girls in STEM, I emailed them about my intention to be Bangladesh's Chapter Ambassador. At first, they said I was too young, but after a year of mentorship training, I was handed the responsibility in August 2020," shared Sidratul.
She initiated a programme for young women that combines both technology and entrepreneurship.
"I relied on Facebook and word-of-mouth to reach out to people during the pandemic. At first, I didn't have many members, but now people from almost nine cities have joined," said Sidratul.
In the first season, all teams made it to the quarterfinals of the Technovation challenge. The apps they built tackle issues related to climate change, promote skill development, and encourage loan lending, among other things.
Sidratul is also the CEO of her own EdTech company, Youthentic++, which she launched in 2020. They teach programming and AI to young individuals. Each workshop only costs $1. They offer both free and paid programmes to over 800 students every month.
Moreover, she is the first Bangladeshi to receive the SheInspires 2021 Award under 'Global Rising Star' Category, which celebrates the huge wealth of remarkable contributions by women. "Million STEM", a network amplifying the voices of women in STEM featured Sidratul as a role model for young women in London.
She was also invited to the Future Leaders Invitation Programme in Paris by the French Ministry for Europe and Foreign Affairs. The Programme enables individuals from the political, academic, and economic landscapes to gain an enhanced knowledge of France in all its glory.
"Currently, I am leading the international project, 'Mangrove Conservation with Artificial Intelligence in Bangladesh'. An AI model will be trained using on-ground data and satellite image data to identify areas of Sundarbans, where restoration is possible. Next year, I hope to pursue a PhD in AI," concluded Sidratul.
The author is a student of BRAC University, and a freelance journalist.
Email: [email protected]