SSC results in the 90s: Advance orders for sweets, widespread uncertainty
90s SSC alumnae reminisce those days of confusion, drama and chaos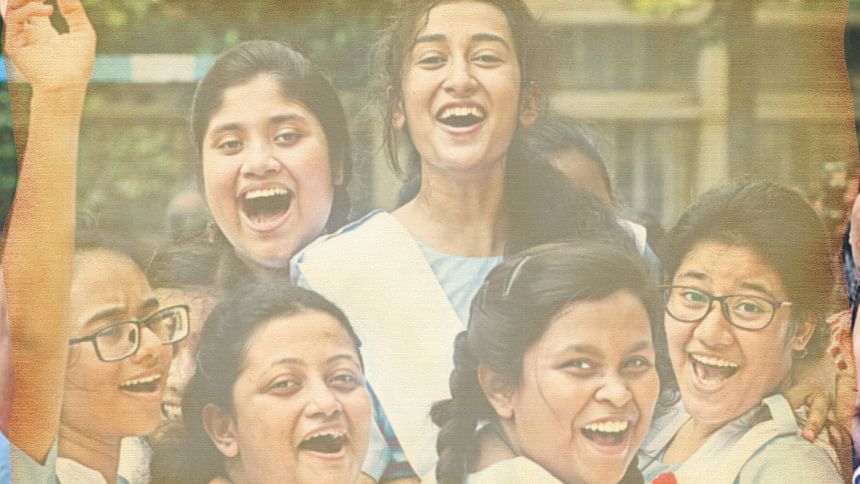 Students are waiting with bated breath to get their SSC results today. If you do not know already, the results can be accessed either through the education board website or via SMS.
But things were not this straight forward back in the 1990s.
As we prep to get you stories of this year's SSC results, our colleagues in the newsroom also reminisced on the chaotic days preluding their SSC results.
"There weren't this many sweet shops back in the day so people would book sweets beforehand thinking their kid will do really well. But we have heard incidents where a father booked 20kgs of sweets only to find later his son did not do so well," says Masum Molla, a colleague of ours who is full of stories of the yesteryears.
The lead-up to getting one's SSC results, though, was pure chaos.
"I knew that my SSC results would be published any time within the week. But I wasn't sure as no specific date was announced in advance," says Farhana Ahmed while recounting the anxious days before her results were due in 1991.
"I was at my aunt's house, enjoying my post-SSC holidays. I got a phone call from my brother on the landline around 10:00pm in the night and he told me my SSC results were published. He took my roll number but wasn't sure how or from where he could manage the result at night.
"I wanted to hide myself somewhere. It was like time came to a standstill. There was no way to know the result at that hour. If he failed to manage the results, I would have to wait the whole night, go to school the next morning to get my grades. But after a while, my brother called again and informed that I got a first division with letter mark in one subject. I later found out that my brother and some other guardians from our area gathered in front of the house of an official of education board at midnight and managed to get a written copy of the result sheet from where he confirmed my result," recounts Farhana Ahmed about her strange night in quest of her SSC results.
It seems the whole results publishing process was chaotic back in those days.
"The results would first be published on the notice boards of the concerned education boards. In some cases, the education boards would send the results to newspaper offices. School teachers would go to their respective boards and manually collect the results hung up on the notice board. They would note down only the results of students enrolled in their school," said Siddikur Rahman, former director of the Institute of Education and Research in Dhaka University.
Education Board would send the marksheet to schools in two to three days.
"This manual collection of results, sending of marksheets after two to three days often meant results day and the upcoming week were full of confusion. We have heard so many cases where someone heard they passed with flying colours only to find they actually failed after receiving the marksheet in their hands," says Masum Molla.