SSC results: Dhaka students outshine others
Students from Dhaka city outperformed their fellows from the rest of the country in this year's Secondary School Certificate exams.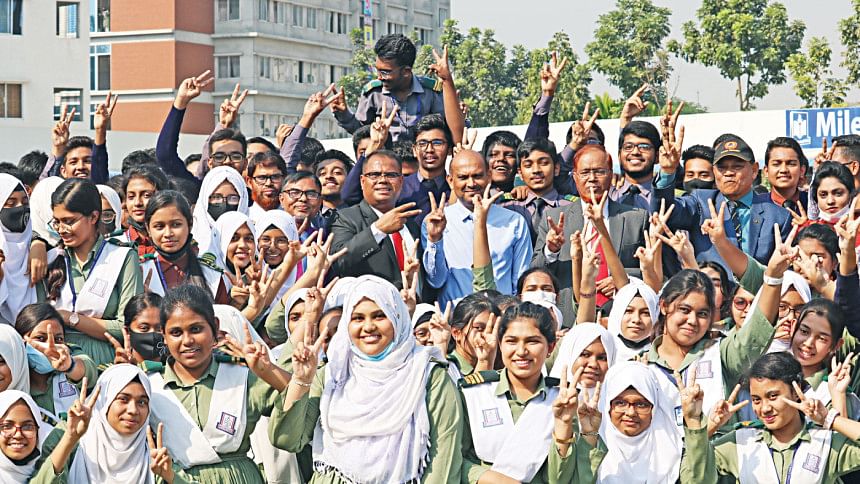 Students from Dhaka city outperformed their fellows from the rest of the country in this year's Secondary School Certificate exams.
About 36 percent examinees from schools in the capital scored GPA 5, the highest Grade Point Average. For the entire country, the figure is about 17 percent.
Education boards' data also shows that 32,030 out of 89,524 SSC candidates from the capital achieved GPA 5 while 2,33,763 out of 13,99,571 students from across the country scored it.
About six percent of the total 13,99,571 SSC candidates across the country were from Dhaka city. But about 14 percent of total GPA 5 archivers were from the schools in the capital.
In Sunamganj, four percent SSC examinees achieved GPA 5. For Shariatpur and Madaripur, the figures are seven and eight percent respectively.
Students from other districts also lagged behind their fellows in the capital in terms of pass rate.
Around 94 percent students from Dhaka passed the exams against the figures of 79.26, 86.90, and 88.38 percent in Sunamganj, Madaripur and Shariatpur.
Academics and education officials blamed shortage of competent teachers, laboratories, libraries and other facilities for the poorer performance of students outside Dhaka.
Mohammad Tariq Ahsan, professor at the Institute of Education and Research of Dhaka University, said the assessment system in the public exams is based on memorisation.
Students in Dhaka usually can afford coaching, guidebooks and private tuitions, which help them learn and memorise the topics, and that have a positive effect on their results in public exams.
He said the so-called famous schools create such a situation for students that they become more skilled in memorisation.
"So, additional investment in education plays a role," said Tariq, also a member of the Curriculum Development and Revision Core Committee (CDRCC).
He pointed out that absence of adequate libraries, laboratories, and quality teachers also plays a role in this regard.
Prof Tapan Kumar Sarker, chief of the Inter-Education Board Coordination Committee, said many bright students from upazila and district towns move to Dhaka for better studies, which is another reason for students from the capital achieving better results.
Prime Minister Sheikh Hasina after receiving the SSC results from the authorities on Monday asked the parents to change their mindset that their children must be admitted to a few famous schools in order to have a good education.
She said many eminent personalities studied at district-level schools. "It's easy for the famous schools to show good results as they get the brightest students," she added.