Schools closed as Covid curbs back again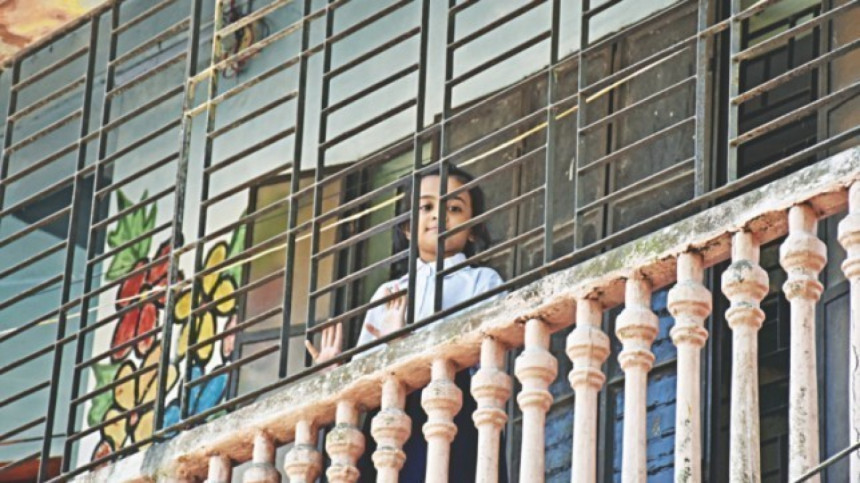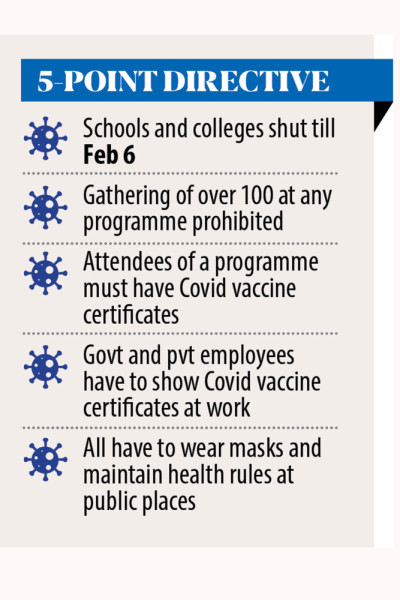 The government yesterday announced closure of schools and colleges until February 6 and prohibited any kind of gathering of over 100 people to curb the spread of Covid-19 amid a rapid surge in new cases.
Issuing a gazette notification with a five-point directive, the Cabinet Division said government and private company employees must show vaccine certificates at work.
Schools and colleges will be closed from January 21 to February 6, the notification said.
Authorities of universities will take their own decisions about closures, it said.
Soon after the directives, Dhaka University and Jagannath University authorities suspended in-person classes. National University suspended all exams.
Public offices will be instructed to operate with half the manpower at workplaces and a circular will soon be issued in this regard, Health Minister Zahid Maleque told The Daily Star.
"The official activities will be operated in a hybrid manner -- half will be working from home and the rest will be in person. There will be a rotation every week," he said.
Speaking at a press briefing at the Directorate General of Health Services (DGHS) yesterday, the health minister said a fresh decision will be taken on schools and colleges after two weeks considering the Covid-19 situation in the country.
Health experts however said the directives are not sufficient to contain the transmission as they allow everything other than educational institutions to operate.
They also raise concern over the implementation of the directives.
"The government ordered shutting down educational institutions, but the government kept tourism, trade fairs and markets open. Such stray measures will not bear any fruit," Be-Nazir Ahmed, former director of disease control at the DGHS, told The Daily Star.
He said the government has already declared some areas of the country as red zones, but kept tourism open.
"What is the point of declaring red zones while keeping tourism and everything open?" Be-Nazir asked.
Dhaka and Rangamati were identified as Covid "red zones" earlier this month.
The DGHS reported 11,434 new coronavirus cases for 24 hours till 8:00am yesterday, taking the overall tally of infections to 16,64,616. Twelve infected people died in that period.
The positivity rate also shot up to 28.49 percent, nearly double the 14.66 percent recorded a week ago on January 14.
In the same 24-hour period, 752 people recovered, taking total recoveries to 15,55,597.
The health minister said at the press briefing that around 33 percent of hospital beds in Dhaka have already been occupied by Covid patients.
"It is alarming," he said, adding that if the transmission is not contained right away, the health system will be under severe pressure and may even collapse.
FIVE-POINT DIRECTIVE
Apart from shutting down schools and colleges for two weeks, the government prohibited gathering of over 100 people in any political, social or religious programmes.
People attending these programmes will also have to show Covid-19 vaccine certificates or negative results of RT-PCR tests conducted within 24-hours before their attendance, according to the notification.
Officials and staffers of all government and non-government offices and factories have to have Covid-19 vaccine certificates. Respective authorities will bear the responsibilities, the gazette notification said.
The notification asked all to wear masks and maintain health guidelines at public places like markets, shopping malls, mosques, bus stands, launch terminals, railway stations, etc.
The local administration and law enforcement agencies were instructed to monitor and ensure compliance.
Educational institutions were shut for about 18 months from March 17, 2020 due to the Covid-19 pandemic.
The government opened these last September for in-person classes.
At yesterday's briefing, Health Minister Zahid Maleque said as people are not maintaining health rules even after the issuance of an 11-point directive by the government on January 10, infections are rising.
"Recently, we've observed a surge in infections in schools. Many students are getting infected. It is alarming. That is why the decision has been taken upon the directives of the prime minister to keep all schools, colleges and universities shut for two weeks to curb infection rates and keep students safe," he added.
Maleque said people will have to show Covid-19 vaccine cards and RT-PCR test certificates while commuting on public transport.
Mentioning that the 11-point directives are not being followed properly, the health minister asked the district administration and police to monitor whether the government directives are being followed.
Curbing infection depends on people. If people follow health guidelines properly, the situation will come under control, he said.
About the trade fair, sports events and the Ekushey book fair, the minister said it would be hard to keep gatherings to less than 100 people but the directive on having Covid-19 vaccine certificates and RT-PCR test results will remain applicable for everyone.
Dr Mushtuq Husain, consultant at the Institute of Epidemiology, Disease Control and Research, pointed out that the implementation of the directives will be a challenge.
The local government representatives can play a role in monitoring public gatherings, he said, suggesting that local councillors and volunteers will have to act more vigorously to create awareness.