Theresa May becomes UK prime minister
She eyes "bold new positive role" for Britain after Brexit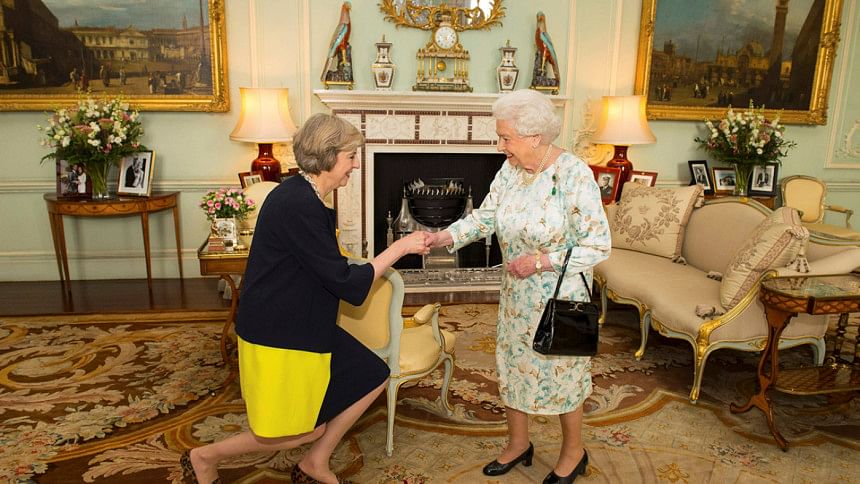 Theresa May became British prime minister today after being appointed by Queen Elizabeth shortly after the monarch accepted David Cameron's resignation.
An official image showed May curtseying to the queen during an audience at Buckingham Palace. Under Britain's unwritten constitution, it is up to the monarch to ask the leader of the party that commands a majority in the House of Commons to form a government.
She pledged to forge a new role for the country following its decision to leave the European Union in her first public address after taking office, saying her government would be driven by the needs of ordinary Britons.
"Following the referendum we face a time of great national change," she said before entering the Number 10 Downing Street prime ministerial office for the first time as leader.
"I know because we're Great Britain that we will rise to the challenge. As we leave the European Union, we will forge a bold new positive role for ourselves in the world, and we will make Britain a country that works not for a privileged few, but for every one of us."
White House congratulates May, confident on her Brexit handling
The White House congratulated the new British PM and said it was confident in her ability to steer Britain through negotiations on leaving the European Union.
"Based on the public comments we've seen from the incoming prime minister, she intends to pursue a course that's consistent with the course that President Obama has offered," White House spokesman Josh Earnest said at a news briefing.