Nice attack: Witnesses describe Bastille Day terror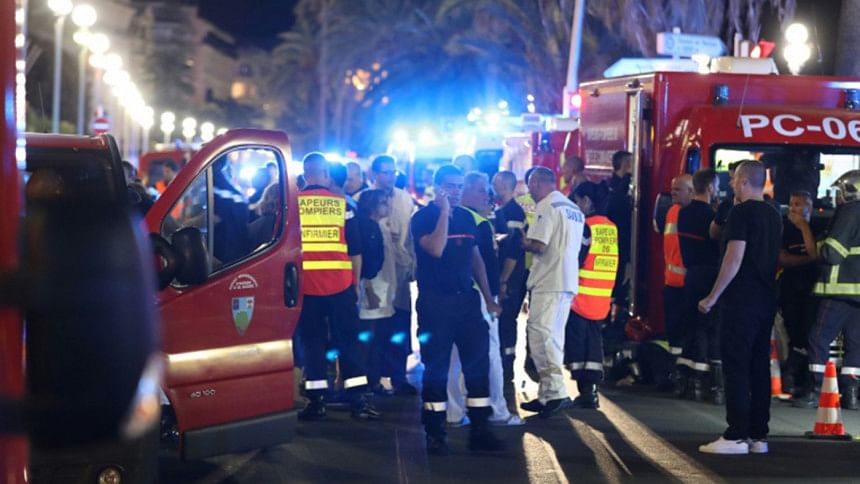 A lorry racing into a crowd after Bastille Day celebrations in the French city of Nice has killed at least 84 people, injuring at least 18 more.

Witnesses in Nice have been describing the scenes of terror and panic as the tragedy unfolded.

Nader El Shafei has described to the BBC how he came to look the attacker in the face for about a minute before witnessing the final gun battle.

"We thought at the beginning it was just an accident," he said, "but then I saw him pulling out his gun and trying to shoot a group of policemen who were coming running towards him."

"I saw him for about one minute - face to-face - but he was not looking at me. He was looking out of the window, appearing very nervous."

"I kept yelling at him, waving with my hand, trying to tell him that there were a lot of dead people underneath his truck. But he did not give any attention to anyone outside the truck."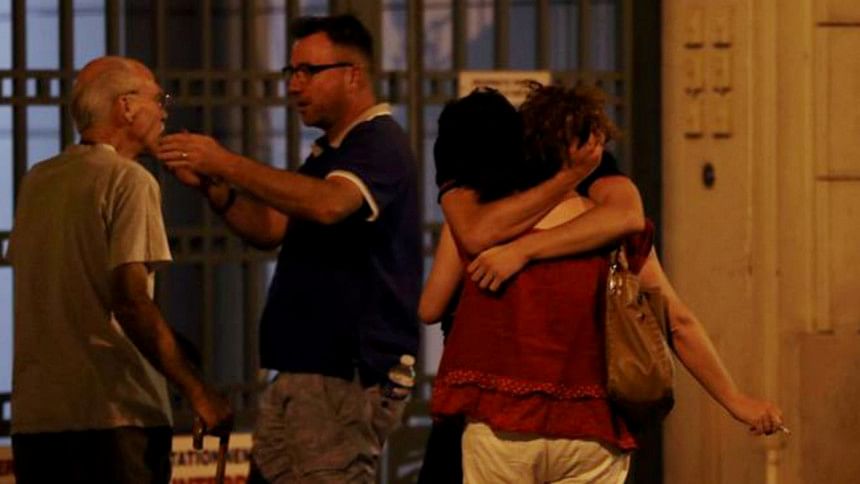 "Police killed him straight away - they didn't wait to negotiate - they just opened fire on him."
ALSO READ: World leaders condemn Nice attack
Eric Ciotti, a regional lawmaker, told Europe 1 radio that he saw someone jump on to the truck to try to stop it.

"It's at that moment that the police were able to neutralise this terrorist. I won't forget the look of this policewoman who intercepted the killer," he said.

He also said some people jumped into the sea to flee the scene.

US Citizen Julie Holland, on holiday in Nice with her two daughters, told The Guardian that she saw the truck driving at full speed through the crowds on the promenade.

"We heard screams, and people started running into the restaurant," she said. "We hid in the kitchen, behind a stove."

"As soon as the gunfire stopped we went through the back door to a hotel down the street. A policeman eventually escorted us back to our hotel at around 3am. There were bodies everywhere. My daughters saw bodies. Lots of them."

Pouya from Toronto in Canada told the BBC that people were enjoying the carnival atmosphere on the promenade created a by a firework display and a jazz band when he heard "lots of screams" and people running in different directions.

"I didn't know what was going on, it felt surreal and I didn't move but thought it must be some kind of practical joke.

The mayor and police urged residents to stay indoors.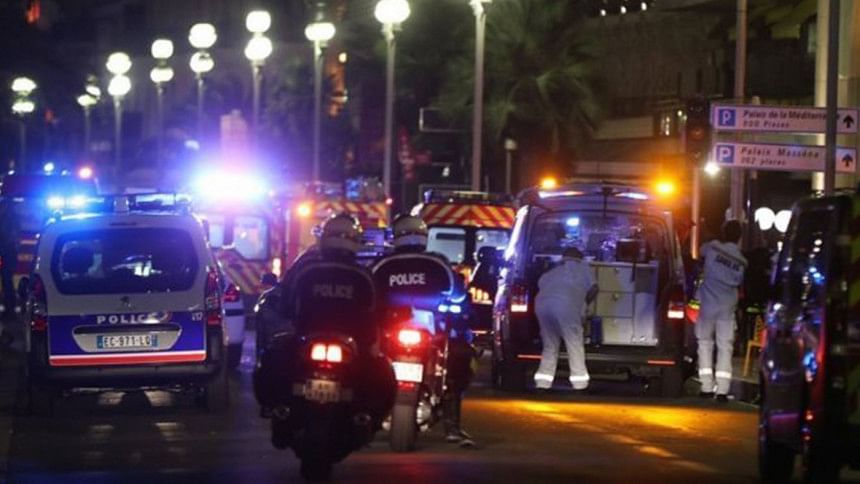 "Then I saw the truck coming straight at me swerving all over the place. It was perhaps 50 yards away. After that there was no conscious thought, my body took over, time slowed down and I ran and thank God I got out of the way."

"I jumped into a doorway and a very nice Frenchman let me and about 15 other people into his apartment. We stayed in there for a while and then when it was safe we left. There were lots of panicked people, dead bodies were in the street and there were police everywhere."

Paddy Mullan, from Northern Ireland, told the BBC that he had "never seen" such fear.

He said the truck "came out nowhere" and started "ploughing" into the crowd.

"This lorry just mounted the kerb, across the street from us and the next thing, all you could hear was banging and shouting and screaming," he said.

"There was a lot of confusion, misdirection, because we didn't know what exactly was happening, why it was happening."

Mullan said he and his girlfriend "bailed out" of the restaurant through a side exit in order to get to a safer position, going through barriers into an apartment complex behind the building.

"We were pushing all the buzzers to try and get into the apartment blocks," he said. "Eventually we got in."

LATEST UPDATES

Kayla Repan, a visitor from the US, was among the hundreds who had gathered to watch the celebrations and fireworks. "The whole city was running," she told Associated Press. "I got extremely frightened and ran away from the promenade. It was chaos."

Damien Allemand, a journalist with the local newspaper Nice Matin, was at the waterfront after the fireworks had finished.

"A fraction of a second later, an enormous white truck came along at a crazy speed, turning the wheel to mow down the maximum number of people," he said.

"I saw bodies flying like bowling pins along its route. Heard noises, cries that I will never forget."

Nice resident Wassim Bouhlel: "There was carnage on the road," he said. "Bodies everywhere."

He described how the driver got out of the truck with a gun and started shooting after the lorry had travelled down the road, running over everything that got in its way.

"It zigzagged - you had no idea where it was going. My wife... a metre away... she was dead. The lorry ripped through everything... poles, trees. We have never seen anything like it. Some people were hanging on the door and tried to stop it."

British tourist Kevin Harris was in a hotel overlooking the scene of the tragedy.

"I heard a lot of screaming and shouting," he said. "I came out onto my terrace and in front of me I could see lots of what appeared to be bodies lying on the road just outside of where I'm sitting now actually."

"Running through crowds in Nice with kids and terrified. Never taking kids to a public event again. Finally back to hotel. Hate this!"

She said it was the "scariest thing ever running through crowds with boys. Got back to hotel and couldn't get in for people seeking refuge!

"Can't stop shaking. Hate that my boys had to experience this," she said.

"It had been a normal evening and we were just walking around," Joel Fenster told the BBC. "Suddenly people started running, there were screams and police sirens and policemen shouting at us to evacuate.

"It was terrifying, especially because we didn't know what was going on. At the time we only had heard some kind of gunshots and we assumed that there were people running around with guns.

Kayla Repan, a visitor from the US, was among the hundreds who had gathered to watch the celebrations and fireworks. "The whole city was running," she told Associated Press. "I got extremely frightened and ran away from the promenade. It was chaos."

"There were huge numbers of families. When we were crouching down behind a car, there was a mother with a young child and she was just trying to tell her young daughter that nothing's going on, that all is going to be fine."

"I live 200 metres from the promenade and it took nearly one and a half hours to get back to my flat because all the roads have been closed down," BBC producer Roy Calley said.

"The police have completely taken over the city, the promenade has now been closed down. Everybody was physically pushed away from the site and told to get back in no uncertain terms by the police.

Another witness, Tarubi Wahid Mosta, posted a video on Facebook which showed photos of an abandoned doll and pushchair. He said that he had come home with a victim's Yorkshire terrier.

"I almost stepped on a corpse, it was horrible. It looked like a battlefield," he said, while describing the sense of helplessness surrounding the carnage.

Earlier Thursday, onlookers had enjoyed a day of military pomp and ceremony in Paris -- where armed forces, tanks and fighter jets swooped down the Champs Elysees avenue -- and spectacular firework displays.

France had been on high alert following last November's attacks in Paris in which 130 people died and hundreds were wounded.

'HOLDING COLD HANDS'

In a video viewed over 3,000 times on Facebook, a trembling Tarubi Wahid Mosta recounted the horror on the promenade, where he took photos of an abandoned doll and pushchair and came home with a victim's Yorkshire terrier.

"I almost stepped on a corpse, it was horrible. It looked like a battlefield," he said.

In a series of posts, he described the sense of helplessness faced with the carnage.

"All these bodies and their families ... they spent hours on the ground holding the cold hands of bodies dismembered by the truck. You can't even speak to them or comfort them."

As the sun rose over the picturesque bay, forensic police swarmed the resort, which has drawn sun-seekers and the jet-set since the century with its pebble beaches and clear blue water.

The truck was riddled with bullet holes and badly damaged, with burst tyres.

Robert Holloway, an AFP reporter who witnessed the white truck driving at speed into the crowd, described scenes of "absolute chaos".

"We saw people hit and bits of debris flying around. I had to protect my face from flying debris," he said.

On Twitter, there were desperate pleas from those looking for news of loved ones.

Pictures of a young girl with braces or a teenager pulling a funny face were among dozens posted.
'HORRIFIC TERRORIST ATTACK'
The attack was the third major strike against France in less than 18 months and prosecutors said anti-terrorist investigators would handle the probe.
It comes eight months after Islamic State attacks on Paris nightspots left 130 people dead, dealing a hard blow to tourism in one of the world's top destinations.
US President Barack Obama condemned "what appears to be a horrific terrorist attack", although no group had yet claimed responsibility.
France has been under a state of emergency ever since the November 13 Paris carnage, which came after 17 were killed in another attack in January at various sites including the offices of the Charlie Hebdo magazine and a Jewish supermarket.
IS has repeatedly singled out France as a prime target for its military action against the group in Iraq and Syria, and hundreds of jihadists have left France to go and fight in its ranks.
'THE DRIVER CRUSHED A LOT OF PEOPLE'
A witness named Nader told BFM television he had seen the whole attack from start to finish, and had initially thought the driver had "lost control".
"He stopped just in front of me after he (crushed) a lot of people. I saw a guy in the street, we were trying to speak to the driver to get him to stop.
"He looked nervous. There was a girl under the car, he smashed her. The guy next to me pulled her out," he said in broken English.
Nader said he saw the driver pull out a gun and start shooting at police.
"They killed him and his head was out the window."
A source close to the investigation said an "inactive" grenade was found inside the truck, as well as "several fake rifles".
Over the past week, France had been breathing a sigh of relief after successfully hosting the month-long Euro 2016 football championship, which passed off without incident despite fears of attacks.
The tournament brought an all-too-brief burst of joy to a gloomy France, bogged down after the two attacks in 2015, violent anti-government protests, strikes and floods.