Trudeau calls Hasina; both urge int'l community to act against terrorism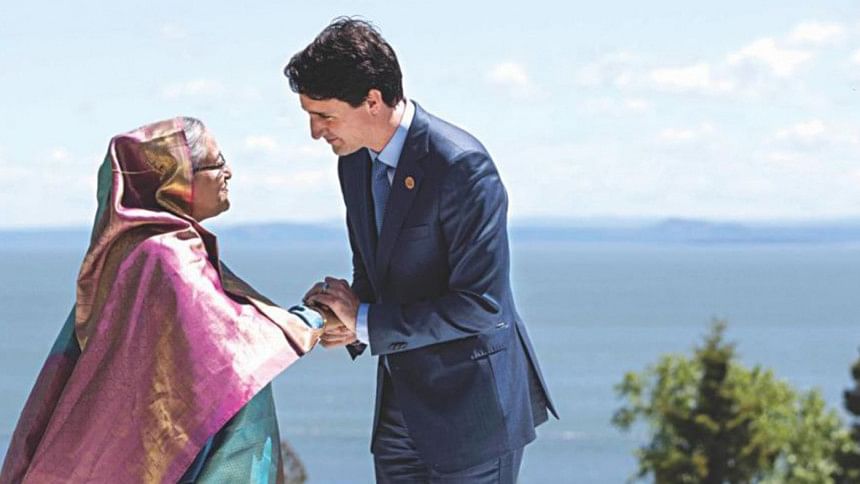 Prime Minister Sheikh Hasina and her Canadian counterpart Justin Trudeau have called upon the global community to act together to stamp out terrorism as they talked over phone this morning.
"The Canadian premier phoned Prime Minister Sheikh Hasina this morning and strongly denounced the terrorist attacks on two Christchurch mosques in New Zealand," PM's Press Secretary Ihsanul Karim told BSS.
During the nearly 20-minute conversation, three press secretary said Trudeau expressed concern over the safety of Bangladesh national cricket team which narrowly escaped the Friday's brutal attack that left 50 people, including four Bangladeshis, dead and injured scores others.
The Canadian prime minister expressed relief that members of Bangladesh cricket team remained safe, the press secretary said.
Trudeau offered deep condolences at the loss of lives of 50 people including Bangladeshis in the New Zealand twin mosques attack.
The press secretary said Sheikh Hasina told Trudeau that there is a need for raising a global movement against terrorism.
In response, the Canadian prime minister supported the view of Sheikh Hasina and said the world community should act together to uproot terrorism.

Reiterating her government's "zero tolerance" policy against terrorism, Sheikh Hasina said Bangladesh denounces terrorism in all its forms and manifestations.

"Bangladesh is a land of peace and communal harmony and we've asked the law enforcement agencies to keep strong vigil and protect all places of worship including mosques, temples, churches and pagodas," she said.

She said Islam does not allow terrorism in any forms and the terrorists have no religion and boundary.

The premier told Trudeau that Bangladesh government has taken concerted efforts for ensuring safety and security of the people and rooting out terrorism from the society.

The Bangladesh prime minister renewed her call to extradite the Bangabandhu's self-confessed killer Noor Chowdhury who is now staying in Canada.

"Noor Chowdhury is presently fleeing justice and now staying in Canada. It would be great services to the rule of law if Canada hands over the killer to Bangladesh so he faces justice," she said.

In response, the Canadian prime minister said that it is a legal matter. "we will look into it".

Sheikh Hasina expressed her firm optimism that Bangladesh and Canada will remain further engaged in mutually cooperative, supportive and respectful partners in the journey towards further development and progress.

The prime minister invited Trudeau to visit Bangladesh and wished his success in the upcoming Canadian polls.

Trudeau extended his heartfelt congratulations to Sheikh Hasina on her party's landslide victory in the last general elections and her assumption of office as the prime minister for the fourth time.