Attacker was 'lone gunman'
Say police; death toll rises to 50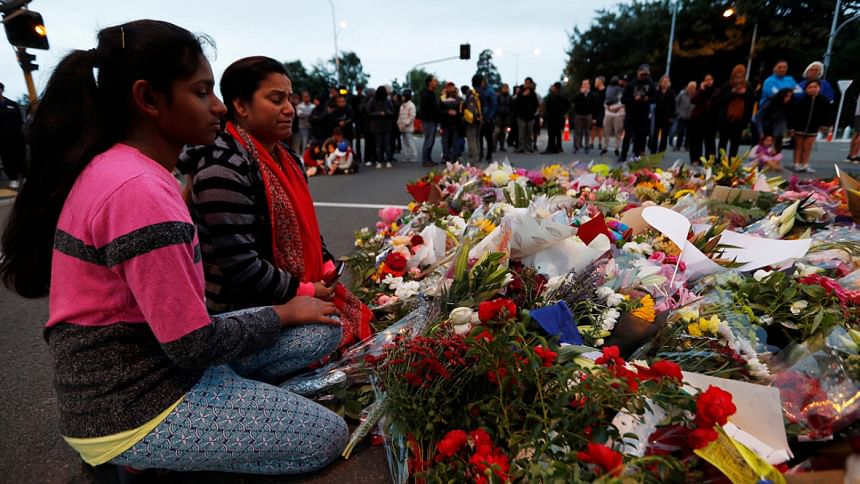 New Zealand police said yesterday the man charged over Friday's twin mosque attacks in Christchurch was believed to have acted alone.
Australian Brenton Tarrant, 28, a self-described white supremacist, live-streamed the attack on Facebook. Three others arrested afterwards are not believed to have been involved, Police Commissioner Mike Bush said.
Prime Minister Jacinda Ardern said her office received a "manifesto" from the gunman suspected of killing 50 people in two Christchurch mosques minutes before the attack.
"I was one of more than 30 recipients of the manifesto that was mailed out nine minutes before the attack took place," Ardern told reporters yesterday.
"It did not include a location, it did not include specific details," she said, adding that it was sent to security services within two minutes of receipt.
Ardern said she had read "elements" of the lengthy, meandering and conspiracy-filled far-right "manifesto".
"The fact that there was an ideological manifesto with extreme views attached to this attack, of course, that is deeply disturbing," she said.
ANOTHER BODY FOUND
The death toll in the mosque shootings rose to 50 after police said they found another body, as an overwhelmed hospital was forced to delay surgeries as it struggled to cope with the sheer number of wounded.
Commissioner Mike Bush said the body of the 50th victim was found at the Al Noor mosque, where more than 40 people had died after the attacker entered and shot randomly at people with semiautomatic rifles with high-capacity magazines, before travelling to a second mosque to do the same.
"As of last night, we were able to take all of the victims from both of those scenes. In doing so we were able to locate a further victim," Bush said.
Thirty-four people were still in Christchurch Hospital, with 12 in critical condition and one child was moved to dedicated children's hospital in Auckland.
Greg Robertson, the chief of surgery at Christchurch Hospital, said the medical staff were having trouble dealing with the enormity of the situation.
The bodies of the victims had not yet been released to the families because investigations were ongoing, but police were working as quickly as they could do that.
"We have to be absolutely clear on cause of death and confirm their identity before that can happen. But we are so aware of the cultural and religious needs, so we are doing that as quickly and sensitively as possible," Bush said.
While talking to reporters yesterday afternoon, Ardern said a small number of bodies would be released to families by night. She added that all were expected to be released by Wednesday.
She also said she was receiving advice as to whether the accused could be deported after his trial. Brenton Tarrant was charged with one count of murder in relation to the attacks on Saturday.
 "I don't want to preempt anything," she said. "He will certainly face the justice system of New Zealand."
KIWIS PAY TRIBUTE
As New Zealanders flocked to memorial sites to lay flowers and mourn the victims, testimony emerged of epic heroism, harrowing suffering and incredible grace.
Farid Ahmad, whose 44-year-old wife Husna was killed as she rushed back into a mosque to rescue him, refused to harbour hatred toward the gunman.
"I would say to him 'I love him as a person'," Ahmad told AFP.
Asked if he forgave the 28-year-old suspect, he said: "Of course. The best thing is forgiveness, generosity, loving and caring, positivity."
Husna Ahmad was among four women believed to have been killed by Tarrant.
GUN POLICY ON AGENDA
The dead from Friday's attack span generations, aged between three and 77, according to a sombre list circulated among relatives.
Some victims came from the neighbourhood, others from as far afield as Egypt or Fiji. At least two of the dead -- a father and son -- came from the same family.
"It's a massacre, what else do they need to know?," said school principal Sheikh Amjad Ali, expressing frustration with the wait for loved ones' remains.
Ardern -- who spent yesterday morning with the Muslim community of Wellington -- will gather her cabinet to discuss changing the country's gun laws today.
That could include a ban on semi-automatic weapons of the type used by Tarrant. A series of reform attempts in recent years have failed.
The cabinet will also hear from intelligence agencies about how a self-avowed fascist legally purchased and trained with his armoury without drawing the attention of the authorities.
Ardern also wants answers from social media giants over the livestreaming of the carnage.
Facebook said it had removed 1.5 million videos of the attack around the world in the first 24 hours.
The video has been classed as "objectionable" under New Zealand law, meaning that anyone who shares it could face prosecution and jail.
A 22-year-old man is due to appear in Christchurch District Court today charged with offences under the Films Videos and Publications Classification Act, police said.
Meanwhile after days of lockdowns, security warnings and fear, police have urged Kiwis to go back to their normal business.
When they return to work, school and hobbies today however, they will find a high police presence, said Police Commissioner Bush.